Mystery shopping has been an important tool for hotel, restaurant, and retail outlet owners to check the level of customer experience. It costs approximately 40$ to 300$ per outlet to conduct mystery shopping. Though the mystery shopping project cost is not expensive the results are fantastic. It is like a reflection of your customer's real experience. You get to see yourself from the eyes of a customer.
Mystery Shopping acts as an eye-opener for any company or institution. It tests the customer experience in real-time. Companies use mystery shopping to find the gap between customer expectation and the real experience.
Mystery shopping companies hire evaluators popularly known as Mystery Shoppers to audit the customer experience by projecting themselves as real customers. Mystery shoppers are paid between 10$-200$ per job but how much do these mystery shopping companies charge their clients for projects?
These Mystery shopping companies design the mystery shopping plan working in tandem with the company. If you are planning to do an evaluation of your establishment or retail stores then you must know the cost of conducting a mystery shopping project.
Why is Mystery Shopping Important for Companies?
In order to decide whether a company needs mystery shopping services, it is important for business owners to know the important benefits of mystery shopping.
A company can measure the gap between real customer experience and potential customer experience, which will help them identify opportunities for improvement in their services. 
Mystery shoppers can provide an objective perspective (Look and Feel) on what they see when visiting your establishment.
Mystery shoppers provide feedback that could save the company money in the long run by preventing negative reviews and wasted time/effort on negative customers.
It helps identify the weaknesses and strengths of a company.
This helps audit the internal compliances on SOPs, protocols, and adherence to legal requirements.
It helps increase customers to loyal customers and turn them into brand advocates.
Evaluates the performance of sales or frontline staff.
Analyses competitor's offers, services, promotional, and marketing activities.
It Helps strengthens supply chain management for the company.
Factors that decide Mystery Shopping Cost for a Project
Mystery shopping project cost depends on various factors like
1. The type of Mystery Shopping
In-Person Visits– The Mystery shopper will visit a store or restaurant physically and will buy some products or eat food. This is the most used approach as the tracking of customer experience happens in real-time. It costs more than other forms because it involves purchases, taking photographs, asking questions, and more.

Telephonic Approach

– It is one of the easiest and cheapest approaches as it involves calling the customer care or call center or any establishment and asking a specific set of questions. Call center executives and trainees are tested in terms of their problem-solving skills, greeting style, etc.  

Web Approach

– In this form apps, websites, and e-commerce sites are tested to see their User-friendliness, loading time, ease of ordering, complaints, returns, and more.

Video Mystery Shopping

– Different companies conduct video mystery shopping to see the video footage of the real customer experience to understand them better. Sometimes video audits are done to check unusual behavior in a particular store. The video footage acts as a benchmark for future training.
2. No of the Stores Need to be evaluated
Mystery shopping cost also depends on the no of locations needed to be evaluated. It can be 1 to 100 or more and the cost is less if the no of stores is higher.
3. Questionnaires
Asking questions can take time and the more questions the higher the cost. A typical form can contain a minimum of 10 questions and it can go up to 60.
4. Purchase Cost
Some evaluations require purchases like groceries, meals, tickets, entry passes, and services in order to complete the job. Mystery shoppers get reimbursements for these purchases or the amount is already included in the job Fee. These purchases make the evaluations costlier.
5. Photos
Most evaluations require photographs but some merchandise audits require more and specific photos. The no of photographs required in an evaluation increases its cost.
6. Tools Required
Some types of mystery shopping require tools like video and audio recording equipment, printers, and more. Companies charge more for video mystery shopping than regular shopping.
Tentative Mystery Shopping Cost for a Project
The cost for evaluating 1-10 Locations with Photographs will cost around 45$ per location.
The cost for evaluating 11-30 Locations with Photographs will cost around 42$ per location.
The cost for evaluating 31-50 Locations with Photographs will cost around 37$ per location.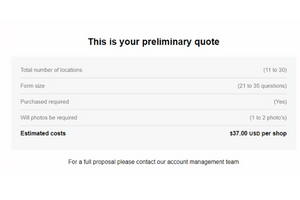 The cost for evaluating 51-100 Locations with Photographs will cost around 35$ per location.
The cost for evaluating more than 100 Locations with Photographs will cost around 29$ per location.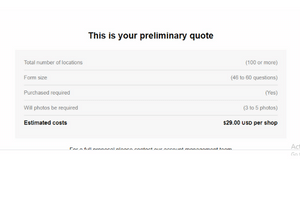 If you need an instant quote for conducting mystery shopping then check out the Mystery Shopper Services Instant Quote page.