Getting Started: Finding Companies to Shop With
Mystery shopping can be exciting. This business is one that is laid back, fun to do, and allows you the flexibility to control your destiny. Yet, if you are to make that happen, you will need to insure that you have the necessary affiliations with the right mystery shopping companies. 
For this, you will need to learn which companies to work with, how to find mystery shopping job opportunities, as well as which to avoid using if at all possible.
Important Things to Know First
Before you start your search for mystery shopping companies, it is important to take into consideration a few things. 
First off, realize that there are two different types of services out there for you to use. 
A mystery shopping company is one that will allow you to work directly with them in performing shops. These companies work directly with the companies where you will shop. These are the companies you want to work with.
The second type of company out there is one that allows you to subscribe to their service and they will list available mystery shops that are available. This can be a good thing but only when the service is free or the shops are very good, hard to find shops.
Most of the time, mystery shopping companies will post their available shops when they become available for the month on their website. If they do not have enough people to cover those shops, they will then venture to various mystery shopping message boards and post their shops there. These are free and just by subscribing to the message board, you get this information when available.
There are other companies that will post to some more strict sites where the mystery shopper has to pay for access to the message boards providing the shop. When you are just starting out with mystery shopping, you may not necessarily have to subscribe to these forums. The fact is that most companies do not use these forums that cost the shoppers anything.
Learn As You Go
As you begin your mystery shopping business, you will be able to learn more and more about it as you go. That is, you will pick things up as time moves on that will help you to get connected to the right places at the right time. It is helpful to read all that you can read and to learn all that you can as you go along.
Learn From Other Mystery Shoppers
One tool that is invaluable to do is of learning from other mystery shoppers. You will find that these people are some of the best people to learn from. They have had experiences, good and bad, with each mystery shopping company out there. That allows you to be able to get the necessary answers to your questions, to get the details that you need, and even help you to find more mystery shopping companies out there.
How do you find them? 
You can often find them just by searching the web for mystery shopping boards. Those boards are just like the mystery shopping message boards out there and in some cases are the same things. Subscribe to as many message boards that have to do with mystery shopping as you can.
You are sure to find many helpful people willing to give you that extra tip or answer your question fast. Of course, they do this for free!
You can also learn quite a bit about the mystery shopping company just from reading their website. Sometimes they will even link you to other mystery shopping companies that they work with. Keep your eyes open here and insure that you are learning as you go.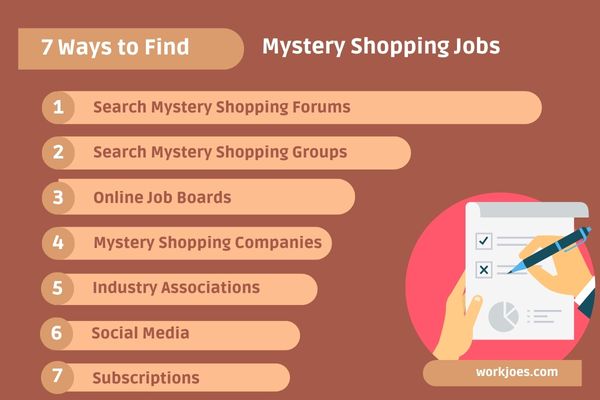 Tips to Find Mystery Shopping Job Opportunities
You are sure to be tempted by purchasing information regarding which mystery shopping companies are out there. Guess what? This is a big waste of your money. Instead of investing in this information, just look for it. 
Search Mystery Shopping Forums
Here are some places you will find many, many mystery shopping companies that you can work with, without charge.
Mystery shopping message boards
There are hundreds more. To find them, just do a simple web search for mystery shopping companies. Remember, for now; do not apply to any that require you to pay for them.
Search Mystery Shopping Groups
There are also many mystery shopping groups available to you. Some places to look at on your favorite group message boards. For example, Yahoo Groups, AOL message boards, MSN message boards, and so on. Take some time to look into all of these opportunities as they are likely to be able to provide you with just what you need.
Online Job boards
Many mystery shopping companies advertise their job openings on online job boards such as Indeed and Glassdoor. You can search for "mystery shopper" or "secret shopper" to find these listings.
Mystery Shopping Companies
Many mystery shopping companies have their own websites where they advertise job opportunities. A quick internet search for "mystery shopping companies" will yield a list of companies that you can contact directly.
Industry Associations
The Mystery Shopping Providers Association (MSPA) and the Independent Mystery Shoppers Coalition (IMSC) are two industry associations that maintain lists of member companies that offer mystery shopping jobs.
Social Media
Many companies also post their open positions on social media like Facebook pages, Twitter handles, Instagram, and the company website.
Purchasing Company Lists or Buying Subscription
Okay, you may be quite tempted to just purchase a listing of all of the mystery shopping companies out there. Yes, this sounds like a great idea and it can be.
But, before you do, make sure that you have exhausted all of the other resources for finding mystery shopping companies that you can. 
Here's why?
Most mystery shopping companies experience high turnover in their shoppers. In addition, they can not use the same person time and time again as that will obviously lead those working in the location to know who the mystery shopper is. Therefore, they are not hidden, secret companies. Most of them actively recruit shoppers far and wide. By joining these message boards, you are likely to learn about all of them quickly and without much of a problem at all.
Be Good at Mystery Shopper Evaluation
You are working for yourself here and creating a business that is all yours. If you want to learn how to manage your mystery shops better then read this post.
You will want to make it a habit to check your email in the morning. What should you look forward to? Others take on mystery shops only to not complete them. If someone should say to you, Are you a mystery shopper, learn how to react.
Therefore, make sure that if the company does provide a grading system; you remain at the top of that system. If you do not do this, you could find yourself facing the fact that there are mistakes that you have made.
Dealership Mystery Shopper – If you do not have specific questions about the product from the mystery shopping company, make sure that you ask for something that makes sense.
If you use opinion rather than fact, you will not get many shops from this time forward. For example, we all know how to wash our laundry yet we probably do it just a bit differently than the next guy. Some may even limit how many you can do for them in one day. When you do this, you are insuring your own success.