Mystery Shopping is an opportunity to make a difference for the company and for yourself.
Mystery Shopping is all about evaluating the depth and quality of service provided by local establishments. And companies need you to do that. Companies under different circumstances use different types of mystery shopping activities to evaluate the customer experience.
As one of the mystery shoppers, you will be an independent contractor posing as a regular customer of any business that serves the public.
Your visits will make a difference to everyone's shopping experience in banks, department or specialty stores, hotels, gas stations, restaurants, grocery stores… the types of places you already use, and make daily decisions, conscious or otherwise, about the service you receive.
The difference is that as a Mystery Shopper, you will be trained for the job, paid for your opinions, and your feedback will be used to help management improve the quality of their service.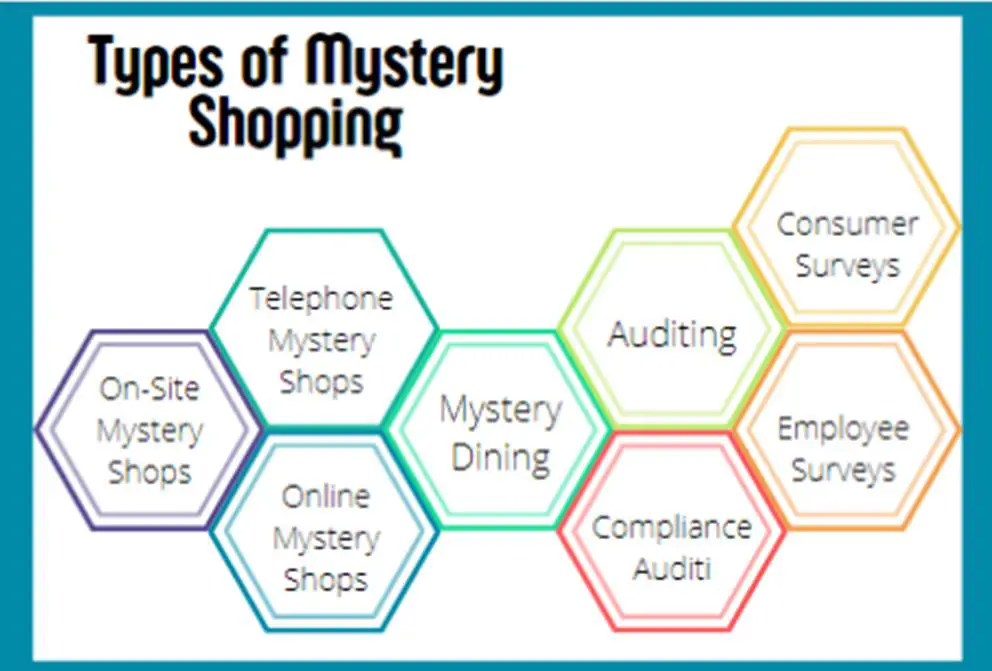 Different Types of Mystery Shopping
There are several different types of mystery shopping, each with its own unique purpose and set of guidelines.
On-Site Mystery Shops
On-site or In-store mystery shopping involves visiting a retail store and evaluating the sales associate's performance, the store's layout and appearance, and the overall customer experience.
Mystery shopping is an enjoyable way to get paid for doing the things you already do each day. Everything from getting your hair cut to going to the grocery store, buying items at your local retail outlet, going to the bank, eating out, or even getting gas.
But the difference is that you will be trained and paid to objectively identify target issues and to effectively report your findings to help improve the service.
You will also have the opportunity to report on excellent customer service. The goal is always to reward excellence where it is deserved.
On-site assignments can take anywhere from 30 minutes to an hour or so, and you will be paid from $20 to $50 per visit. Companies will also reimburse you for small purchases.
Your services will provide valuable feedback to retailers, restaurants, and other establishments that must remain customer conscientious. So your opinion truly does matter.
some companies conduct video mystery shopping for a better understanding of the real customer's experience.
Telephone Mystery Shops
This type of mystery shopping involves calling a business and evaluating the customer service representative's performance, such as their phone manner and their ability to answer questions.
It is so easy to give the wrong impression on the telephone. Customers do not have the advantage of seeing facial expressions, a friendly smile, or any of the body language that says: "I really am interested in helping you."
How these messages are interpreted can mean the difference between winning a customer or losing a sale.
How do our client's customers react to what they hear on the phone?
Could there be improvements that would increase our sales ratios?
Mystery Shoppers telephone shoppers and uses highly targeted survey objectives to answer questions in a detail.
Online Mystery Shops
This type of mystery shopping involves visiting a business's website or app and evaluating its design, ease of use, and overall online customer experience.
Yet the Internet has major disadvantages compared to traditional brick-and-mortar shopping:
No face-to-face contact with a salesperson,
No one to physically help or offer a welcoming smile.
A level of trust is established in the first second of a sale in-store. However, trust must be built in an entirely different manner on the Internet. Asking customers for their feedback can be helpful, but most often they'll give you a one-sided picture.
Either they liked their shopping experience or they did not, with little in-between.
Mystery Shoppers will give you the entire story, and the full experience, including ease of navigation, checkout, and service responses. They can even shop your competitors' sites and tell you where they excel. Simply put, they will help you to compete more effectively and with greater profitability.
Mystery Dining
This type of mystery shopping involves visiting a restaurant and evaluating the service, quality of food, cleanliness, and overall experience of the restaurant.
McDonald's: The fast food giant regularly employs mystery shoppers to evaluate the cleanliness, customer service, and overall experience at its locations.
Starbucks: The coffee chain uses mystery shoppers to evaluate the performance of its baristas and the overall customer experience in its stores.
Domino's Pizza: The pizza chain uses mystery shoppers to evaluate the timeliness and accuracy of its deliveries, as well as the quality of its food.
Dine Brands Global (Applebee's, IHOP): This company uses mystery shoppers to evaluate the overall dining experience and the service provided by its staff.
Yum! Brands (KFC, Pizza Hut, Taco Bell): The fast food conglomerate use mystery shoppers to evaluate the customer service and overall experience at their locations
Auditing
This type of mystery shopping involves visiting a store or business and checking to see if certain standards or policies are being met, such as compliance with health and safety regulations, or checking to see if the store has specific products on the shelf.
Compliance Audit
This type of mystery shopping is done to check if the company is following laws, regulations, codes, or industry standards, and also to check adherence to company policy.
Consumer Surveys
Sometimes, instead of mystery shopping, you might be asked to complete consumer opinion surveys on any number of topics:
Opinions on products and services,
Likes or dislikes,
Shopping habits,
Favorite foods,
Appliances owned…
You could be one of the thousands of people across the nation asking the same questions, the answers to which reflect public opinion accurately.
Knowing what consumers want is crucial to any industry. It helps suppliers provide what people want in the manner in which they want it. A lot depends on the quality of your work.
Employee Surveys
Listening to your Employees Makes Sense.
Do your employees know something you don't? Decisions made based on the opinions they offer in surveys can reduce turnover by about 20%. This reduces costs and increases profit. Other gains not directly reflected on a balance sheet include:
Greater loyalty and flexibility,
Productivity rises because employees are happier,
Teamwork is strengthened by reduced turnover,
Contributed ideas lead to better quality, and
Customers recognize increased service levels,
When opinions are listened to, employees feel like valued team players.
It has been shown that employees talk more easily when they can do so anonymously. Automated phone and web-based surveys demonstrate a greater depth of feedback and answers that are more detailed. And with the latest technology, you get almost instant access to the results, meaning you can respond more quickly. Once more, that means greater employee morale.
Some of the Industries That Uses Mystery Shopping
Apartment Management
Automotive ( Sales, Repair )
Banks / Financial
Convenience Stores ( Gas Stations )
Fitness Clubs ( Membership Clubs )
Grocery Stores
Hospitality ( Hotels, Resorts )
Movie Theaters
Retail and Specialty Stores
Restaurants
Shopping Malls
Travel ( Airlines, Travel Agencies )
When properly used, a mystery shopper can help identify weaknesses and flaws in service delivery that never happens when management is watching.
Shoppers can also uncover theft, an unfortunate but real problem that occurs in all business environments. On the positive side, a shopper can identify those employees who provide consistently superior service to their guests.
Frequently Asked Questions
How mystery shopping is done?
Mystery shoppers go into businesses as regular customers. They interact with employees, make a purchase and possibly a return, then fill out an evaluation form describing what happened during their visit. Mystery shoppers get paid for providing this service as independent contractors.
What kinds of businesses use mystery shoppers?
Any business that deals with the public may use mystery shoppers: stores, restaurants, banks, hotels, salons, home builders, apartment complexes, gas stations, casinos, auto dealers, auto service centers, movie theaters, health clubs, pet stores, amusement parks, optical providers, and more.
You can get paid to get your hair cut or your eyes examined, have dinner, go to the bank, have your car worked on or fill up the gas tank, watch a movie, get your dog groomed, and lots of other things you like or already have to do.
How much will I earn?
Our many shoppers do this in their spare time and earn $100, $200, or more per month. Some consistently earn more, often a lot more. Some of our part-time shoppers make $500 or more per month.