There is a saying " You can only be as good as your employees". So employees are critical to the success of any business. Employees, estate managers, and property managers need periodical training and feedback to improve their sales pitch.
One of the greatest ways to analyze their current strengths and weaknesses is to conduct Apartment mystery shopping.
What is Apartment Mystery Shopping?
Apartment mystery shopping is an anonymous evaluation of the on-site leasing personnel and property as seen from the renter's viewpoint. 
By measuring the important factors for your prospective resident, you can improve your product /service and beat your competition. 
In simple terms, it is done to evaluate the leasing personnel and the property.  It is one of the best management tools to determine the effectiveness of your property and employees. 
What is the need for Apartment Mystery shopping?
Apartment mystery shops allow you to see where your property excels, and where there might be some tweaking required. It helps find out the weaknesses to work on and strengths to hold onto.
It helps property and real estate owners in many ways such as
Increase the cash flow by converting prospects into revenue-contributing residents
Train employees to know what is essential when dealing with customers and how to close more prospects.
Heighten your agents' awareness; knowing they can be shopped at any time, every prospect will be given the red carpet treatment
Be assured you have people on staff with the right skills
Identify the training needs of your staff
Benefits of Apartment Mystery Shopping
Out of the many benefits of Apartment Mystery shopping, here are the 4 important ones.
It helps analyze weak links and improve on your strong ones to make the overall corporate image shine in the end.
Helps to train agents who know what is important to a prospective tenant when looking for an apartment.  
Helps you generate more rentals and increase rental revenue.  
Help to determine the training needs of your staff.
How Apartment Mystery Shopping is done?
A mystery shopper goes through the entire rental experience, from the initial telephone call to the in-person presentation. The mystery shopper then scores the leasing consultant on their efforts accordingly. 
The Mystery Shopping report provides the owner/manager with a free from bias opinion of the performance of their leasing staff from a renter's point of view.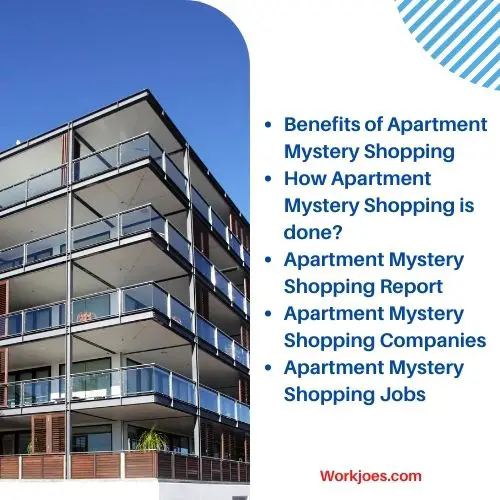 The Objective of Apartment Mystery Shopping
The main objective of this evaluation is to uncover the hidden value in a property's rent roll.  The report is based on an extensive survey of the competition in the immediate area. It focuses on adjusting the rents to optimal levels while concurrently allowing for the reduction of concessions.  
It ranks the property in terms of price, size, perceived value, and condition as well as the sales ability of the leasing staff. The report also includes a Marketing Plan to identify where improvements and upgrades could cost-effectively be made in order to increase asset value.
Apartment Mystery Shopping Report
After the evaluation is completed it is time for the reporting. 
The shopping report gives you precise information on how well your on-site staff presents your apartments. The Shoppers' Report is a professional evaluation of your on-site staff and property from the prospective resident's viewpoint.
The report includes a shopping report that is both quantitative and qualitative and an executive summary. It also has instructions on how to get the most from the report including guidelines for reviewing the report with your staff.
The apartment mystery shopping report template gives you guidelines on how to go over the shopping report with your staff to maximize the benefits of every evaluation. 
Important elements included in the report are:
Telephone Skills:  How well does your staff present your property on the phone?
Greeting the Prospect:  You never get a second chance to make a first impression!
Showing the Suite:  What is the condition of the unit and how well is it being presented?
Overcoming Objections:  How does your staff handle negative comments and concerns?
Closing:  Are qualified prospects walking out the door?
Who is this for?
The apartment mystery shopping is intended for
Apartment Owners
Property Managers
How to find Good Apartment Mystery Shopping Companies
Qualified apartment mystery shoppers know exactly what to look for and what questions to ask. They help determine exactly how well your staff performs in real-life situations. 
In the world of apartments, there are many influences that can affect your bottom lines such as Occupancy rates, Rent prices, Location, Competition, customer service, and Property management.
To get the best out of your apartments and real estate you should have well-trained staff. To evaluate the effectiveness of your property management team, you can hire apartment secret shoppers. 
To conduct apartment mystery shopping,
Choose companies that are reputed and experienced in conducting apartment Mystery Shops
Companies that use only well-trained apartment mystery shoppers. 
The report is the key and it must be concise, easily understood, and action-oriented
 Someone who provides integrated services such as Property Value market surveys, due diligence, and absorption studies.
A company that can keep you ahead of your competition and optimizes your bottom line.
Some of the top apartment mystery shopping companies are
Apartment Mystery Shopping Jobs
There are many top companies that offer apartment jobs for mystery shoppers. Here are some of the top jobs at this moment
$20-$40 Shopper Pay- Apartment Shops from Reality Based Group. Apply Now
$20.00 Shopper Pay- Student Apartment Housing Shops from Reality Based Group. Apply Now
$60 Apartment Shops in PA (+ $10 Bonus) by Market View Point. Apply Now
$40 Apartment Shops Available from NWLPC Apply Now$100 pay – Rockford, IL Video apartment shops from Primo Solutions. Apply Now