Most people think mystery shopping is the type of job you can just sign up for and then begin making money.
This is hardly the case, as being a good mystery shopper and finding work as one, requires some special skills and attributes.
In this blog, we will discuss the Skills, attributes, and qualifications required for mystery shoppers to become successful.
12 Skills and Attributes for Mystery Shoppers
Being a mystery shopper requires a combination of skills and attributes that include:
Attention to detail: 
Mystery shoppers are expected to observe and report on specific details of their shopping experience, such as the cleanliness of the store, the friendliness of the staff, and the accuracy of the product displays.
It is also very important for mystery shoppers to be detail-oriented. It is critical for a shopper to be able to recognize several details at once. 
For example, it is important to remember and accurately portray how the employees were dressed and carrying themselves as well as the appearance of the store when you were walking in. 
You might also have to remember if you were greeted and how long it took for you to be greeted and this is just in the first few minutes of your shop! Thus, multitasking and being detail oriented are very important skills for a good mystery shopper.
They Are Objective:
Good mystery shoppers know how to be objective. It is important for a mystery shopper to keep an open mind when evaluating stores. It is easier than you might think to be biased either positively or negatively if you have attended a shop or restaurant before as a non-mystery shopper.
It is important to keep your previous experiences or biases to yourself and evaluate the store or product under the professional eye of a mystery shopper.
Good communication skills: 
Mystery shoppers are often required to fill out detailed reports describing their experience, and good writing and verbal communication skills are essential.
Mystery shoppers must also have good communication skills. How they communicate their experience back to their employer or client is essential for the businesses who hire them.
Therefore it is important for mystery shoppers to take detailed notes about their assignment so they can accurately portray the right information back to their employer.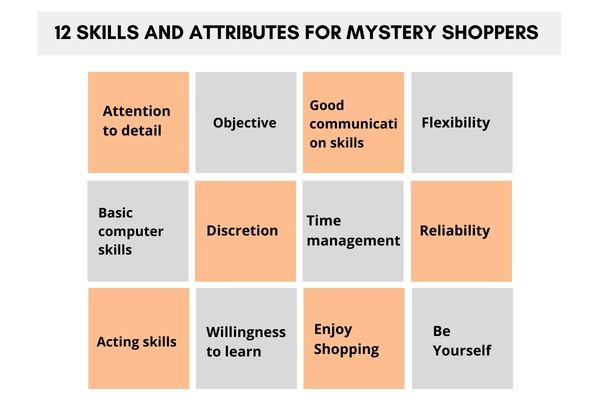 Flexibility: 
Mystery shoppers may be asked to visit a variety of different types of stores, restaurants, and other businesses, and the assignments can vary widely in terms of timing and location.
Basic computer skills: 
Mystery shoppers will typically be required to complete online reports and surveys, and basic computer skills are needed to navigate these tasks. You should know how to write and prepare reports on a laptop or a PC.
Discretion: 
Mystery shoppers are often required to keep their assignments confidential and not reveal their true identity or purpose.
Time management: 
Mystery shoppers are expected to complete their assignments within a specific timeframe and meet deadlines for submitting their reports. Timeliness is also an important qualification for a good mystery shopper. Completing your assignment on time and reporting back in a timely manner is one of the most important aspects of a mystery shopper's assignment aside from the evaluation itself.
If you want to learn how to manage your mystery shops then read this guide.
Reliability: 
Mystery shoppers are expected to be reliable and follow through on their commitments to complete their assignments on time and with high-quality work.
Acting skills: 
Mystery shoppers may be asked to play different roles as a customer. In some cases, mystery shoppers are asked to act a certain way. In this case, mystery shoppers should feel comfortable 'acting' and not let their feelings get in the way of the objectives of their mystery consumer assignment.
Mystery shoppers in general must feel comfortable presenting themselves as everyday customer to the business. This makes their shopping experience as reliable and accurate as it can be, allowing them to report on their assignment with clarity and objectivity.
Willingness to learn: 
Mystery shoppers are expected to follow the given instructions and guidelines and be open to learning new things.
Enjoy Shopping:
The best mystery shoppers, of course, enjoy shopping. They must also like working with people and thrive on flexible work hours as well as non-traditional work environments. 
Be Yourself:
The last qualifying matter of being a mystery shopper is simply being yourself. An assignment might require a certain age demographic or type of person. For example, a car dealership might want to see how its employees react to young, female car buyers. 
Thus, an assignment such as this won't be given to an older male mystery shopper. It is the only facet of mystery shopping you cannot ultimately control. However, the majority of assignments do not require a specific demographic from their shoppers.
Qualifications Required for Mystery Shoppers
There are no specific qualifications required to be a mystery shopper. Many mystery shopping companies do not require a college degree or any specific qualifications. However, some companies may require certain qualifications or certifications.
Some examples of qualifications that might be required include:
A high school diploma or equivalent.
Good writing and communication skills.
Basic computer skills and experience with the internet and web-based tools.
A reliable mode of transportation and the ability to travel to different locations.
Ability to follow instructions and guidelines.
Good attention to detail and ability to observe and report on specific aspects of the shopping experience.
Experience in customer service or retail is a plus.
Reliability and punctuality are also highly valued by most companies.
It's worth noting that some companies may also require a background check before hiring mystery shoppers.
Do I need previous experience to become a Mystery Shopper?
No. Most shoppers don't start out with any market research experience.
The qualities of a good mystery consumer can be obtained from other work experiences such as a previous job history where you worked in retail or another business where you may have been on the other side of mystery shopping.
Organizational skills, an eye for detail, and a joy for shopping are important skills for a mystery shopper.
Conclusion
As you can see, it takes a certain set of skills and personality traits to be a good mystery shopper. Those people who are detail-oriented, enjoy shopping, are timely, flexible, organized, and can be objective are the kinds of people who make great mystery shoppers and do well in the industry over time.