Yes, Go Mystery Shopping is a legitimate company working in the field for the last 2 years in the UK. It's a new company but it has created its presence in the mystery shopping industry.
Go mystery shopping is a part of Submission Technology Ltd, an Email Marketing company in the UK. 
But, is Go Mystery Shopping legit? Let's find out more about this company, its process, clients, payment, etc.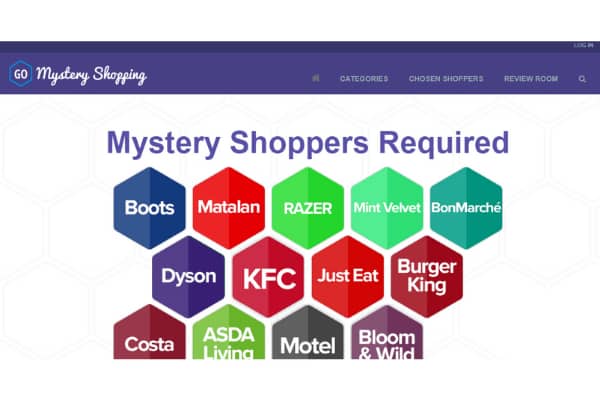 Why Go Mystery Shopping is a Legitimate Company?
We will discuss the company details, brands it works for, how it selects evaluators, and the reporting and payment guide to find out the legitimacy of Go Mystery Shopping.
Brands and Companies – Go Mystery Shopping Associated With
The company is conducting Mystery shopping for different companies in a wide variety of industries like Fashion, Sports, Beauty, Health, Home. Restaurants, and other Retailers. Here is the list of companies or retailers they are working for,
Boots Baby 
Matalan 
Razer Gaming
Mint Velvet Voucher
Bon Marche Voucher
Dyson 
KFC Vegan Secret Diner
Just Eat Secret Diner
Burger King Secret Diner
Costa Coffee £50 Voucher
Asda Living 
Motel Rocks
Bloom & Wild 
Iceland 
Morrisons 
Made.com
Review Amazon Gaming
Screwfix 
£50 Greene King Voucher
Typo Mystery Shop
Coffee mystery shop
Look Fantastic 
Decathlon
Uber Eats Secret Diner
Local Business 
Dobbies 
Pets at Home 
The Range 
Burger King Secret Diner
Build A Bear 
Smyths 
Sports 
Poundland 
Home Bargains 
Deliveroo Secret Diner
Adidas 
Nike Secret Shopper
Halfords 
KFC Secret Diner
Hobbycraft 
McDonald's Secret Diner
Subway Secret Diner
Primark 
Harvester 
H&M 
Currys 
Topman 
The Body Shop
Matalan 
Costa Coffee mystery shop
Game 
Superdrug 
B&Q 
Boots 
Dunelm 
Dominos 
Costa 
Amazon 
Morrisons 
JD Sports 
Asda 
Wilko 
B&M
How does Go Mystery Shopping Work?
Go Mystery Shopping has a unique way of conducting mystery audits. They have 3 step process to choose Mystery Shoppers for every job. Here they are,
Step 1:
They ask you to choose and register for any shops that you wish to conduct the mystery audit for. 
Step 2:
In the second step, you have to complete a questionnaire(Answer some Survey Questions) based on the offers and store information. 
Step 3:
Once these two steps are completed you have to wait for their final confirmation email about your selection. If you are selected you will receive full details about the job (A full Checklist) and a 100£ Shopping Voucher to spend on shopping.
Who is Eligible to Work for Go Mystery Shopping
Let's see who is eligible to take part in Go mystery shopping jobs.
You should be 18+ years of age.
A resident of the UK
A knack for looking at specific details and representing them verbally and in written form (Not a mandatory Requirement)
How much do you get paid for conducting mystery shopping?
You don't get paid in cash but you get a 100£ Shopping Voucher for the specific store you are going to evaluate. You can buy products(related to the review) and you can keep them.
So indirectly you get products worth 100£ which can be baby products, groceries, food items, lunches, lifestyle products, medicines, and more.
How and When to submit the review on Go Mystery Shopping?
Once you get a confirmation letter for a job evaluation and the 100£ Gift/Shopping Voucher, you have 7 days to complete and submit your review.
There are 3 requirements after you finish a job
A Written review of 500 words or more
A Video Review
Photographs
Once you get a confirmation email from the company, you will receive 2 separate emails. One email will have the reviewer checklist and points to review during the job and another email will have the 100£ Shopping Voucher to spend during the job.
Once you are done with the review you have to write a review of 500+ words without any grammatical and punctuation errors. This should cover elements given before the evaluation.
In the video, you have to explain the same points covered above and share your experience in person.
Then you have attached all clean photographs to an A4 poster(sent through the mail).
You can submit your detailed review report, video, and Photos by logging into your account. If you face difficulties in uploading or sending the review then you can send them by these alternate methods
It is essential to remember that you have to submit the review within 7 days of receiving the confirmation email and the gift vouchers. If you fail to conduct or submit then write a mail explaining the difficulty and asking for an extension.
Too much rescheduling and postponing will hamper your future jobs so be focused on the job.
Do I have to Pay Anything to become a Mystery Shopper on Go?
No, it's absolutely free to register and become a mystery shopper with Go mystery shopping.
Conclusion
Go mystery shopping company is a legitimate mystery shopping provider that pays 100£ Gift/Shopping Voucher for every job you complete. The best part is that you get the gift card in advance once you qualify for the job. So there is no scene of scams or delayed payments.