Mystery shopping is done to evaluate the customer experience, cleanliness, sales staff behavior, and many more. It helps find out the gap between customer expectation and his real-time experience in the store/outlet.
Mystery shopping is conducted in many ways like Interviews, Images, Videos, Questionnaires, etc. Video mystery shopping is a great tool to see the real-life example of a customer's experience. Unlike images and questionnaires, videos give you a look and feel of the shop experience from the customer's point of view.
Benefits of Video Mystery Shopping:
Video Mystery Shopping is a great way to conduct evaluations in any institution. Here are the benefits of it:
It lets you see the real-life experience from the customer's point of view. 
You see and hear real experiences as they happen in a store or outlet.
Video mystery shopping is the best way to check the state and level of service in a store or outlet.
It can be a pathbreaking tool to find competitor strategies and executions.
It helps companies to get reality-driven feedback and thus make corrective steps.
It helps you identify your strengths and also the weak areas where improvement is required.
This is the best way to see what your sales staff are doing and the opportunities to make corrective actions.
Video mystery shopping is an important tool and companies use it to find out loopholes in sales staff behavior, merchandising, products display, etc. 
These recorded videos help in the training of staff and managers in the company.
Sometimes videos are required to investigate any awkward sales trends or ethical behavior of sales staff. These videos help find out any theft, weird practice in an institution.
You evaluate new staff/trainee behavior, the effectiveness of training.
Process of Video Mystery Shopping:
Video Mystery Shopping is like regular Mystery Shopping but the tools and the method are different. It involves cameras and microphones to record videos and audio of the evaluation.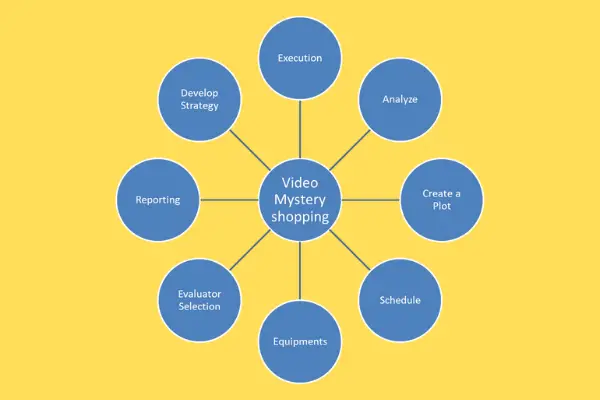 It has Eight important phases:
Analyze- The first step is to assess the need for a video evaluation. The objective of this evaluation is to be set.
Create a Plot- The second step is to create a plot for the whole evaluation from start to finish. Companies need to decide the total flow of this evaluation. Areas that need to be covered and services to be consumed in this audit should be pre-planned.
Schedule- Create a time schedule for the evaluator to visit the shop and conduct the audit. Choosing the time is as important as conducting the evaluation, so set up the time schedule after consulting with the company.
Tools- Video Mystery shopping requires good cameras and microphones to capture high-definition video footage and recordings of the conversation. Recording of audio and video can start from the parking lot to the exit and typical mystery evaluations take 15-45 mins, so choosing equipment is of paramount importance.
Evaluator Selection- Not all evaluators are selected for video audits. Companies certified evaluators who have prior experience in conducting video audits. In these evaluations, cameras and microphones are hidden so evaluators should be smart to not drive attention yet complete the audit in full.
Reporting-The report is in the form of a video and usually a story-like format. The analysis is done and key findings and actionable strategy recommendation is presented in the form of a story video. High-end editors are hired by mystery shopping companies to convert audit footage into a video story.
Develop Strategies- companies and brands develop actionable strategies for their retail outlets based on the recommendation, reports, and analysis. They also consider the past performance strategies and actions in place and customize them for future executions.
Execution- Strategies are converted into executions with a proper guideline and SOP is generated for execution.
Best Video Mystery Shopping Companies
Here is a list of the 5 best Video Mystery Shopping Companies in the USA.
Intellishop-
Inteliishop is a reputed name in the Mystery Shopping industry. Its headquarter is located in Ohio, USA. They have a vast network of 400,000 evaluators across North America. They are a leading name when it comes to Customer Experience Management, Reputation Management, and Loss Prevention and Compliance.
Intellishop started their operations in 1990 and so far have won many awards for being the best Customer Insights company. They have worked with many Fortune 500 companies and different industries.
If you are a Company looking for an organization that will do Video mystery shopping for you then Intellishop is an excellent choice. They have industry-wide experience, a large pool of evaluators, high-tech equipment, and an in-house team to serve you.
If you are an evaluator and want to take up video Evaluation jobs then Intellishop is a reputed company known for its timely payments. But make sure to read and follow instructions to complete the task fully.
Advance Feedback
Advance feedback is working in the US, Canada, and Mexico since 1991. They are located in San Diego, California. This company offers the following services –
Mystery Shopping

Video Mystery Shopping
Web Mystery Shopping
Phone Mystery Shopping

Customer Survey
Brand Compliance
Competitive Analysis
Research Services
Lead generation
Advance Feedback company has a pool of 2 Million evaluators across 3 Countries. They have worked for top companies like Ford, Lexus, and SHARP.
EPMS Online-
EPMS- Ellis Partners in Management Solutions started in 1984 in Texas. Joanna Ellis is the founder and CEO of EPMS Online, a reputed Mystery Shopping Company.
They offer the following Services:
Mystery Shopping- audits to evaluate Customer experience Gap.
Resident Surveys- These surveys are aimed at creating more loyal customers.
Training- They provide comprehensive training on Customer experience Management. They offer Seminars, Webinars, Coaching, and Mentoring programs.
Elite CXS
Elite CXS is a family-run and owned company headed by David Hartley. Its headquartered in Hudson, Florida, USA. It runs its operations in North and South America.
Thor services are as follows:
Customer Experience Management
Online Reputation management
Mystery Shopping & More
Mystery Shopper Services
Mystery Shopper Services is owned by Business evaluation Services. It started operation in 1996 and has industry-wide experience in conducting mystery shopping evaluations. Its headquartered in California USA.
They offer-
Mystery Shopping
Video Mystery Shopping
Social Media Management
Internal audits
Competitive Research
Focus Group surveys