Mystery shopping is an evaluation of a Company's services quality, sales personnel behavior, product quality, and also competitor analysis. This process is done through shoppers who pose as potential buyers and the institution is unaware of the evaluation taking place. Typically mystery shopping companies design a comprehensive mystery shopping plan to conduct at different locations.
The primary objective of any Mystery Shopping is to evaluate Customer Experience. There should not be any gap between the customer expectations and the customer's real-time experience.
What is a Mystery Shopping Plan?
The idea of conducting mystery shopping comes from the Marketing brand management department of a company. They usually hire an Independent mystery shopping company to conduct the evaluations. 
They approach a mystery shopping agency and discuss the objective and finalize a goal for the whole evaluation. Now the mystery shopping agency or company choke out a plan to conduct the evaluation.
A mystery shopping is done in mainly three ways: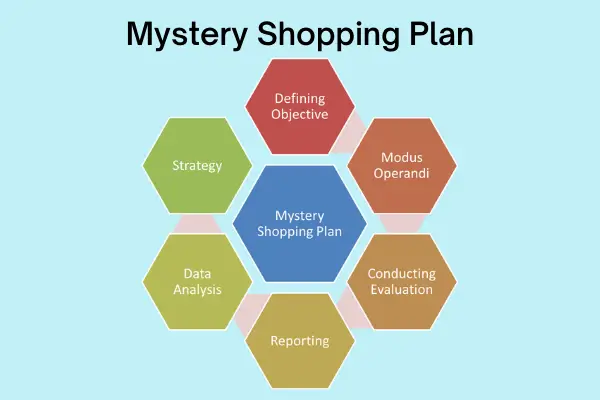 Direct Visit to the Retail Outlet or institution
This is the most popular way of conducting an evaluation. An evaluator visits the retail outlet and does a set of specific tasks like make a purchase, use a service, take pictures, ask questions, record feedback.
Telephonic Approach
This approach is performed to test the Call center experiences for customers. One usually checks if the representative greets or not, his/her response in solving queries, how ell he/she handle each case, product, and technical knowledge, etc.
Web or App Review
Brands have gone online so to ensure smooth functioning and a great experience for the customers a mystery audit is done to test the look and feel of the website or app, its user-friendliness, loading time, ordering process, returns, payment options, security, product and services information, reviews, etc.
Elements of a Mystery Shopping Plan
 A mystery shopping plan consists of the following elements:
1. Defining the Objective of the Evaluation:
Mystery shopping companies after discussion with the Brands decide the objective of the evaluation. The objective of a mystery shopping plan can be:
Evaluate Customer Experience
Check Cleanliness of the Facility
Branding
Check Signage Installation & Maintenance
Check Safety Regulations & Parameters
Display Placements
Presentation of Products and Services
Sales Staff Performance Evaluation
Competitor Analysis
Evaluating the Customer Service Representatives in Branch or Call Centres
2. Deciding the Modus Operandi of Mystery Shopping
The next step is to decide how to conduct the evaluation. Based on the type of Mystery shopping, (Direct Visit or Telephonic or Web Visit) tools are developed to conduct the survey.
These tools can be
A set of Questionnaire
Photos of Certain Locations
Videos
Recording
Taking Feedback
3. Conducting the Evaluation:
Each mystery shopping companies have thousands of independent Evaluators attached to them. These evaluators have different skillsets and ex[pertise. They are selected based on the requirement of the job. Once the job description is defined, mails are sent to the qualifying evaluators or Mystery shoppers.
This is a sample of the mail that the mystery shoppers get for each evaluation. They are asked to confirm if they want to take up the evaluation. Mostly these emails contain specific information regarding the Evaluation, like
Things to do like When to reach, What to look for
Requirements of photos, videos, or recordings
A questionnaire
Specific instructions on how to complete the evaluation
Fees the Evaluator will get to complete the task
Reporting Format
Store or Institution Location and address
4. Reporting:
Once an evaluation is complete the mystery shopper is required to prepare and send the complete report with any photos, receipts, videos, or recordings within 24-48 hours. Sometimes companies ask evaluators to add specific information or some more photographs for better understanding. But this is usually completed within 48 hours of conducting the evaluation.
5. Data Analysis:
Once the Mystery shopping companies acquire all the data from different evaluations, they analyze it and prepare a detailed report. This report is present in the form of a summary, video, or story and is usually accompanied by recommendations.
6. Strategy:
Brands or Companies use the reports and recommendations to build an actionable strategy.
What are the characteristics of a Mystery Shopping Plan?
A good mystery shopping plan must have the following characteristics:
A clear Defined Goal: The goal or objective of any mystery shopping must be well defined without it the evaluation can not be measured.
Guidelines for the Evaluation: Setting up a structure to conduct the test through Questionnaires, photos, videos, recordings, feedback, interviews, etc.
Selecting the Evaluators: Different evaluations require a specific skill set and based on the location and skill set evaluators are picked up. Choosing an inexperienced evaluator for a more difficult or comprehensive evaluation may put the process at risk, so the selection of the right evaluator is of great importance.
Conducting the Evaluation Neat: Mystery shopping should be conducted anonymously, fully. A partially conducted evaluation or a delayed evaluation, or in case the identity of the shopper is revealed does not go well with the goal. Therefore the evaluation should be conducted neat and error-free.
Complete Reporting within Time: Reporting is as important as conducting the evaluation. It should be free from any errors, all feedbacks with any supporting should be submitted within the due date and time.
Data Analysis: Mystery shopping companies analyze data with a set of tools to find out Gaps, prepare research insights and make reports and recommendations.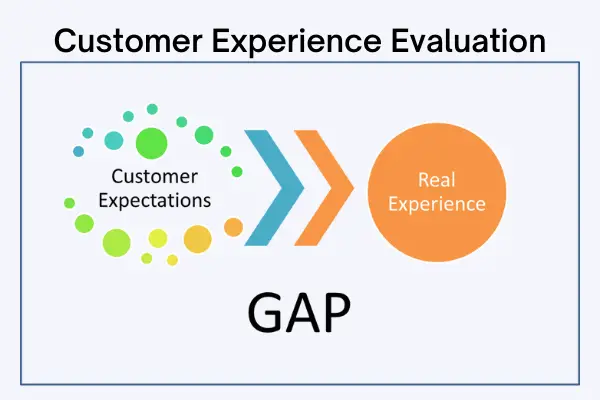 Benefits of a Mystery Shopping Plan:
Mystery shopping has many benefits and they are
They identify any existing Gaps in Customer Experiences– They evaluate the customer needs and their real experience. The difference between these two is the gap. The bigger the gap the more is the dissatisfaction.
Turn Customers into Brand Advocates: Customer is the king and will always be a King. If you treat your customers the right way they will become your repeat customers. Repeat customers become loyal customers and afterward become your brand advocates.
Sales Staff Performance: It is crucially important to evaluate the performance of your frontline staff. They are the face of any institution, retail store, or any other establishment. You should monitor the following :

How they greet your customers
How they talk to them
Explain products or services
Product knowledge
Customer grievances

Competitor analysis: You should always keep an eye on your competitor's offers, services, promotions, and any other enhancements. This helps you build your competitive advantage.
Human Resource: A mystery shopping audit is also done to check employee integrity, policy compliance, proper implementation of training modules, SOPs implementation (Standard Operating Procedures).
New Product Launches: Audits are done to check the effectiveness and success of new product launches.
Promotional Offers: Retail outlets offer discounts, promotions on a regular basis, so it is important to know which ones are working and why? What are the expectations of customers and their feedback on the promotional offers? These audits help built better and working promotional offers.
Legal Requirements: All companies are bound by the laws of the governing states so to ensure the legal requirements are met and protocols are followed, Audits are done.
Supply Chain Management: Supply chain is as important as any other department in a company. An effective and working supply chain ensures optimal supply of products to its stores or retail outlets across the network. A mystery audit will help in finding any loopholes within the supply chain system. This will lead to cost-effectiveness and an increase in sales.