Is second to none mystery shopping company legit?
Yes, it is absolutely legit and it is one of the popular mystery shopping companies in the US and Canada. Second To None was started in 1989 by jeff Hall in Ann Arbor, Michigan. It has a solid 32 years of experience in conducting mystery shopping audits for many top brands from the US and Canada. They have a track of 20000+ evaluations each month for different clients.
Some of their top clients are BP, Starbucks, Citi Bank, Minted, Krispy Krems, Under Armor, etc. Second To None won the prestigious Best Workplaces Award by Inc. Magazine in 2019.
Services Offered By Second To None:
Mystery Shopping- Direct Visits, Online, telephonic
Compliance Audits
Customer Satisfaction Surveys
Employee Engagement Surveys
Reputation Management
Customer experience design
Industries They Cover
Retail Sector
Hospitality
Financial Institutions
Healthcare Sector
FMCG
Services Sector:
Why Join Second To None Mystery Shopping?
Second to None is a known and reputed company in the Mystery shopping Industry. They have been rated A+ by Better Business Bureau. The mystery shopping industry is full of scams but Second to None is a trustworthy and legitimate company that is a great paymaster.
It has a strong network of evaluators and is a reputed company in North America. If you join Second to None you will enjoy the following benefits,
Evaluators are independent contractors who can take as many assignments as they want. There is no restriction on job acceptance rather it is on a job-to-job basis.
You are free to choose or decline any audit job sent to you.
With flexible timing and schedule, you can complete the assignments at your convenience. You just have to follow the guidelines for conducting the surveys.
Get paid from 10$-60$ per evaluation.
You get free groceries, lunches, hotel stays, leisure tickets and passes, and more with job fees.
Second To None serves in more than 30000 points so you will get more jobs at your home locations.
Opportunity to work with leading retail brands and be a part of improved customer experiences.
How much does second to none pay?
Second To None pays approximately 6$ to 70$ per assignment based on the level, difficulty, and time required to complete it. They also reimburse any tickets, meals, grocery expenses, taxes, or any other out-of-pocket expenses.
Second to None Mystery Shopping Employment
Mystery shoppers who are associated with Second To None are Independent contractors and not direct employees of the company. They are hired from job to job basis and paid accordingly.
Second to None Inc
Second To None Inc. is a privately held company headquartered in Michigan USA. It was founded in 1989 and according to Glassdoor.com its turnover is approximately 20Million USD. Jeff Hall is the founder and current chairman of this company.
Second to None Login for Mystery Shoppers
It's very easy to sign up with Second To None as a mystery shopper and get started. You have to visit their official website and click on the Become Mystery Shopper Button on the Right-hand corner of the website, it will take you to a signup page. But you have to be a resident of the USA or Canada to register on Second to None.
Second to None App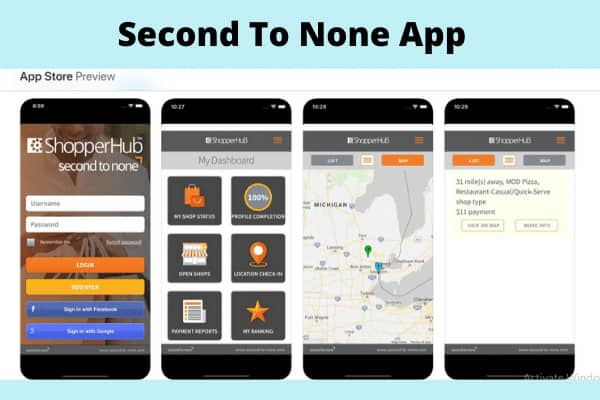 Shoppers Hub is the official App of Mystery Shopping Company Second To None, but it is only available in the Apple Play Store. This app is designed for Ipad and iPhones. It doesn't have an android version yet on the play store.
Here is the link to the Second To None app on the Play store.
This app has simplified the reporting and evaluation process for participants.
Some of the benefits of this App are
No more saving photos on laptop and compiling required to send photographs. Now you can save photos directly on the app.
You can reschedule shops and dates for evaluation on the app.
Submitting reports is very easy with the app.
You can track your payment status through this app.
System Requirements for Installing the App
IOS 13.0 for iPhones, Ipads and iPod touch
Mac OS 11.0 or later for Mac PC