An eBay watch list is a list of products that you have shortlisted. When you search for something on eBay search, the products that you like for their price, quality, and design are shortlisted in the form of a watchlist.
You can add around 400 products to a watchlist. These watchlisted products are not bought by you yet but are usually shortlisted to get good luck before the final purchase.
How to search your eBay watch list?
This is annoying, people with computers can easily look for the watchlist as the option is right on their eBay screen.
Finding your eBay watchlist is considered very tiresome work particularly for android and iPhone users; however, there is a simple and easy way to do it.
Visit the front page of eBay.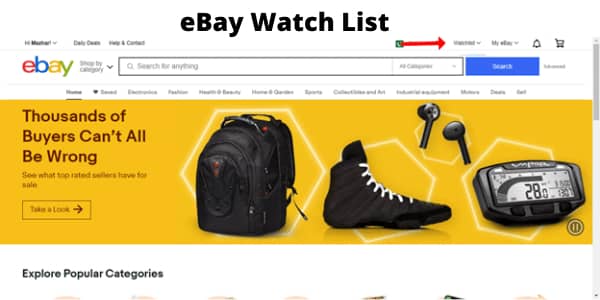 Go to the top of the page and click on the My eBay link
When the page appears, click on the Searches in the All favorites section on the sidebar. You'll be shown all of your saved searches for an item over there.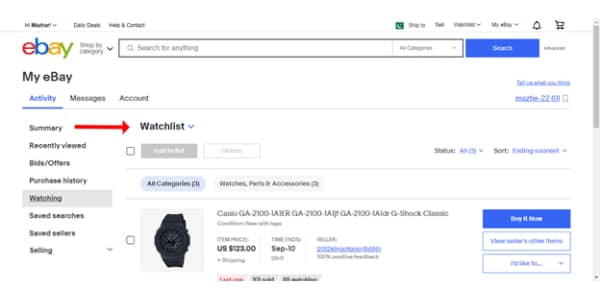 How to share an eBay watch list?
eBay offers many options to make your watchlist public or private and share it with your friends.
How to share it on Facebook
Click on the Facebook button at the top of your watchlist.
In the drop-down menu, click where you want to share the; link to your watchlist. Check if you're going to share it with a private message, on your Facebook wall, or in a group.
You can also choose to add a thumbnail to that
Now click the share button
How to share it on email
Click the email button at the top of your watchlist
Now insert the emails in the address section. You can add up to 20 emails in the area separated by colons and semicolons
How to make the email public or private 
You can also decide to make your email list public or private.
It means that your wishlist can not be shared or watched by anyone else. This is the default option in eBay because most people do not like to share their details with anyone else.
It means that your list will be visible to others. Others can identify it through your email and name or your eBay ID by other users.
This is the third option in which your profile can be viewed by only the people you have shared the link with.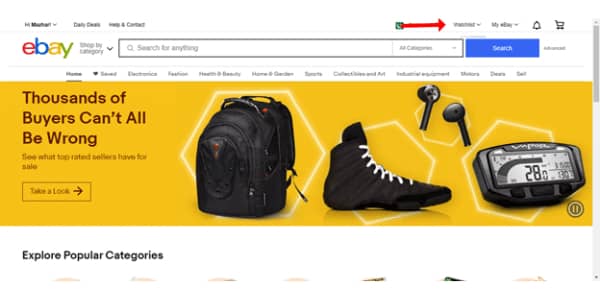 How do I find my watch list?
You can find your watchlist by going on eBay and select watching. You can find the watchlist of others by clicking on the Find a watch list link at the bottom of the eBay pages. Then enter the name and details of the person and click find a watchlist.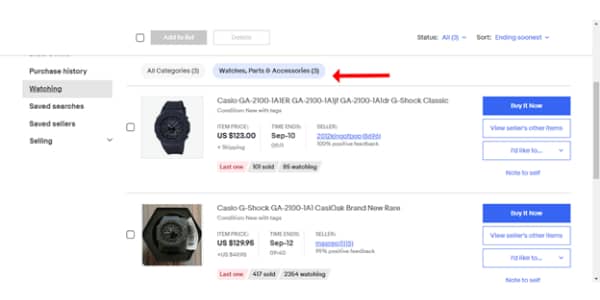 How to organize my eBay watch list
It might get challenging to shortlist products from different niches in one list. Therefore it is essential to organize them based on each niche. In the new update of eBay, you now have the liberty to do that as it is mentioned in the latest update of eBay that they have added category filters to help customers find each product based on each niche.
When you go to your watchlist, you'll see your preferences for each item individually. For example, if you have shortlisted some products on shoes, custom t shirts, or jewelry, then these preferences will be shown as individual categories separately in each section.
How to edit my watch list?
Once you have created your eBay watchlist, you can customize them in your way.
Sort by the status of the listing
You can sort out the items based on the listing of each one. For example, you can click on the sort and look for an active listing. The active listing will only show you the products whose listing is available. Whereas as inactive listing will offer the products whose listing is unavailable or have expired due to shortage of inventory or other reasons
You can also add a note to a particular product by clicking on the add note option at the bottom of each product. Also, you can edit a message later on.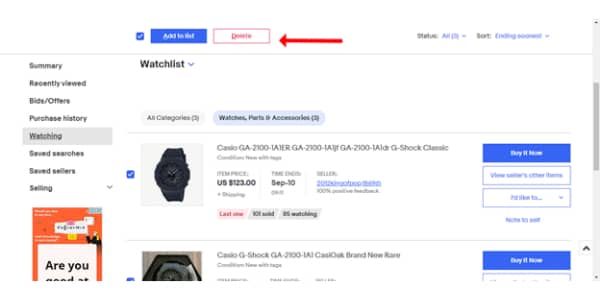 How to delete a watch list
Go to your watch list and click on the delete option at the bottom of the product. This will remove the product from your list.
You can also delete multiple items in a watch list by selecting all those items and confirm the delete option.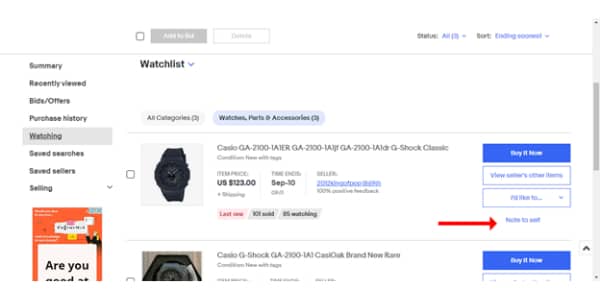 How do I increase my watch list on eBay?
Most of the very demanding people shortlist many items in their watchlist, which end up in the watchlist gets full. Therefore, they have to delete specific items from their list to add more to it. You can not add another buying account to eBay because that is a very hectic process.
Therefore, you need to utilize your eBay watchlist carefully. Gladly, eBay has extended its watch list; now, you can add 200 products to your watchlist before making a final purchase. Previously the limit was 30, which was increased to 100, and now it is 200.