When you set up an eBay watch list, it saves your searches and bids for items that match the criteria. You can access this list by clicking on my eBay at the top of any page, then selecting Watch List from the menu bar. This is a great way to save time, as you'll be notified with emails when new items matching your search are posted. It is a strategic way to bid auctions and win with an eBay watch list.
Everyone has their way of using eBay. Some people go on the site to purchase an item and leave, while others who do not like to go for the buy now option remain on the site and shortlist some. things. For these types of people, eBay has introduced a watch list option to keep track of what they are interested in.
How does the eBay watch list work?
How to use your eBay watch list?
When looking for a listing on eBay, there is an option to add it to the watchlist to save it for later viewing. This item can then be viewed later on in the watchlist option,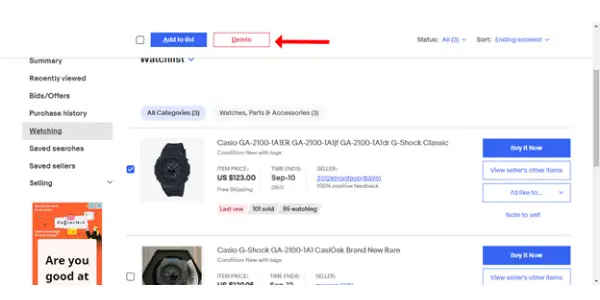 Features of a Watch list
All of your listings are, by default are shown with the active or pending listings. But you can filter these options later on.
You can opt to view the items based on the price, relevancy, seller ID or the date at which it is posted.
You can also opt to delete a specific item or add a particular item in the list in the option gives in the watchlist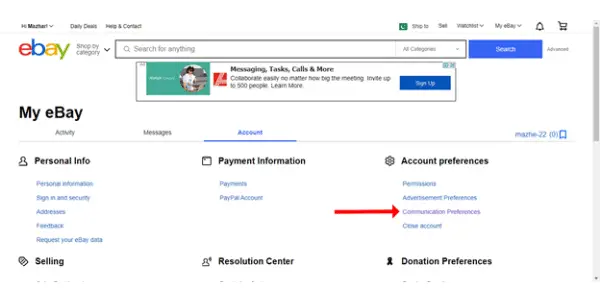 eBay, by default, will provide you with the update of all of your listings. For example, if a listing is ending soon, you will receive a notification in your email. However, you can change the preference by the following method.
Go to communication preferences on eBay
Click show activity under the buyer option
Besides the watchlist, there is an option to go for daily, weekly, or monthly summaries.
Click Save
What is the trick to winning bids on eBay?
If you lose on eBay, that does not mean that you are a loser. It just means that you did not know the strategy to win bids on eBay.In sports, the teams and the management study their rivals, and in politics, the candidates keep a close eye on what the other candidates are doing to outsmart them.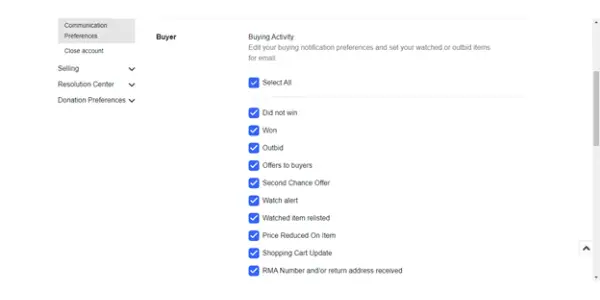 We have developed some strategies that you need to go ahead and win the bids on eBay without paying more than you want. Be sure to have a close eye on every request and the time the request is played.
Daily Planner Method
Go to eBay.com and set up your account in case you do not have an account. You do not have to pay anything while setting up your account unless you place a bid in the auction.
Watch this item on the top left side of the listing whenever you encounter a thing that you liked.
Once you have shortlisted the item, you need to keep track of when the listing will end; if you have added your email to your account, eBay will send you a notification that the listing will expire in the next few hours. In this scenario, it is advisable to keep track of when the listing is going, so go on the site and check the exact date and time.
Maintain a calendar to schedule the date and time of each auction
Know what you're bidding on before placing a bid
Know what's in stock and how many quantities are available for the product
Set up filters for keywords or brands
Use multiple browser tabs to keep track of several auctions simultaneously while browsing.
Go to eBay at least 10 minutes before the end of an auction.
The next step is winning a bid. It would help if you placed an offer that is higher than the current bidder. But here is a tip for you. Always put your bid at least 1-2 dollars higher rather than 50-60 cents. In this way, you won't lose your request just for a few cents.
Dutch Auction Strategy
A bid puts your price or the price you are willing to pay for the item in the bid.
Wait for the time to be counted at least 5 seconds before placing the bid. The system will take you to a window where you would have hopefully won the bid.
eBay helps you to track your bid either through your smartphone as well as through your computer as well. So you are not never away from receiving any information about your item.
Dos and Don'ts in a bid
Here is a list of do's and don'ts in a bid
An early bid is useless because it lets the other buyers see what the current situation is in a bid, allowing them to make their minds according to the conditions.
Always oversee the auction.
If you are very interested in an item, you have to watch the things from beginning to end. Make sure that you get a quick overlook at the bids at some time in the day.
Always be calm in a bidding war.
If you are in a bidding war at the final stages of the bid, don't just freak out. Your bid can be beaten at any time in the bidding war, and that's ok. Just plan yourself accordingly.
Check your fiercest competitor.
If you need an item badly, you need to check your biggest competitor and check his history. This will help to size up your competition.