A professional platform always tries its best to save its reputation at any cost. The case of suspended eBay accounts is rising these days, and it can lead to several problems for the sellers on eBay and the platform itself. However, the breaks are still lower than on amazon. Let's talk about what are eBay suspensions and how we can fix them.
Types of Suspended eBay accounts:
eBay has the policy to suspend or restrict you if there is some violation by the seller. Let's look at the kind of suspensions one can face on eBay:
1. Account on Hold
In the first type, your account is put on hold. It is perhaps the least severe form of suspension sellers face on eBay.There may be some payment issue on eBay, or there must be some account information left unfilled by the seller. Therefore, to follow its protocol by issuing an account hold warning to fix the issue. Once the issue is resolved, eBay reinstates your account, and your listing goes live again.
2. Account Restrictions
The second type is comparatively more severe than the previous one. eBay uses a metric performance system to implement its policies. If it feels that the performance of your listing is not up to the mark, it restricts your account.
It would have severe consequences on your sales as your listing will not be available on the eBay top search even though your description and quality are up to the mark. The deals will lower, and your competitor can have an advantage over you. Just like all other online platforms Bay considers that the buyers are everything. Therefore, it tries to give maximum value to him. 
It cannot allow putting the buyer at risk by exposing it to such an unprofessional seller. A seller should consider it a wake-up call because the listing is not permanently suspended, and the seller has the chance to improve his listing.
3. Account suspension
The third and the most crucial type for every seller is full account suspension. There is no specific time limit for this suspension. The rest can be for a week or for an indefinite time.
It does not happen suddenly. eBay issues warnings to the seller to improve his listing and customer service. It also reports the seller's specific type of violation and instructs him not to repeat it. After issuing multiple warnings Bay finally takes a step to suspend that listing. Therefore, it is essential to pay attention to each warning issued by e Bay.
Various Reasons of eBay Account suspension
eBay notify your suspension through an email along with the reasons for the suspension. It also tells what a seller should do to come out of this suspension. Here are some possible reasons for the account suspension
1. Displayed misleading content on the listing
Some sellers put casual or slang words in the product descriptions, which is unprofessional and offensive. Therefore, eBay has a strict policy not to encourage such content.
Gladly this does not lead to a complete suspension of the account, and the report can be reinstated after improving the mistakes.
2. Failure to deliver
You give a promise to eBay when you create a listing on eBay. This promise breaks down when you failed to deliver the product to the customer consistently. You are supposed to have the same effect with the same condition and within the same period. When a seller fails to do it constantly, then eBay suspends that account.
3. They are selling products outside the eBay platform
The following big reason for the suspension is selling outside the eBay platform.eBay makes money through its platform. Therefore, it would be strictly against the protocols of eBay to sell outside of its domain. There is one point to notice that even it is the request of the buyers. Still, it will be a violation of eBay policies.           
4. Copyright theft
The next one is probably the most basic rule of marketing yet, not uncommon, which is copyright claim. As a seller, you are never allowed to use someone else ideas or content to promote your one's listing. It will lead to a claim by the copyright holder, and he will file a case to eBay for your suspension.
5. Selling banned items
Obviously, on the internet, certain items cannot be openly sold and purchase. eBay has rules on banned and restricted items that prohibit a seller from selling such items. Also, a seller is not allowed to used abusive language against the buyer. It will not just result in a bad review but the suspension of your account.
How to recover a suspended account?
The first a seller needs to do is check out if the notification is accurate or not or if it is an authentic mail from eBay.There is a possibility that some scammer may be trying to exploit you.
Step.1 Read the eBay mail carefully and check the problem
The first and most essential step is to know about the actual reasons for the suspension of your account. The email will comprehensively tell the seller the grounds, along with proof for suspending the eBay account.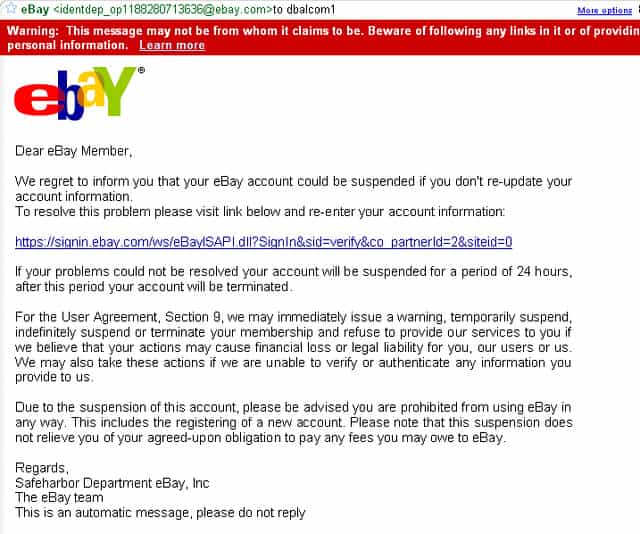 Step.2 Go to eBay Customer Service
Google eBay customer service on google, and it will take you to the eBay customer service page.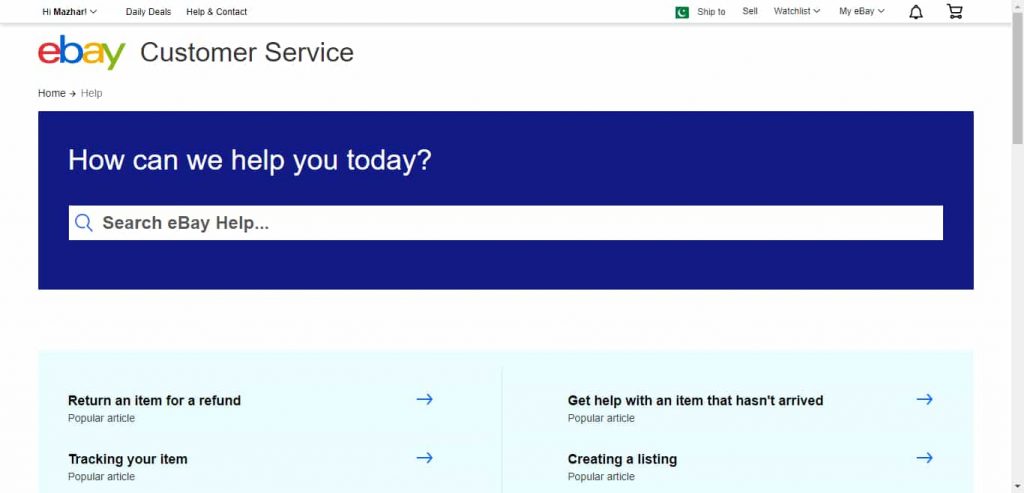 Step.3 Choose to Contact Us Page
As shown in the picture, click on contact us then it will lead you to the account suspensions and violations tab.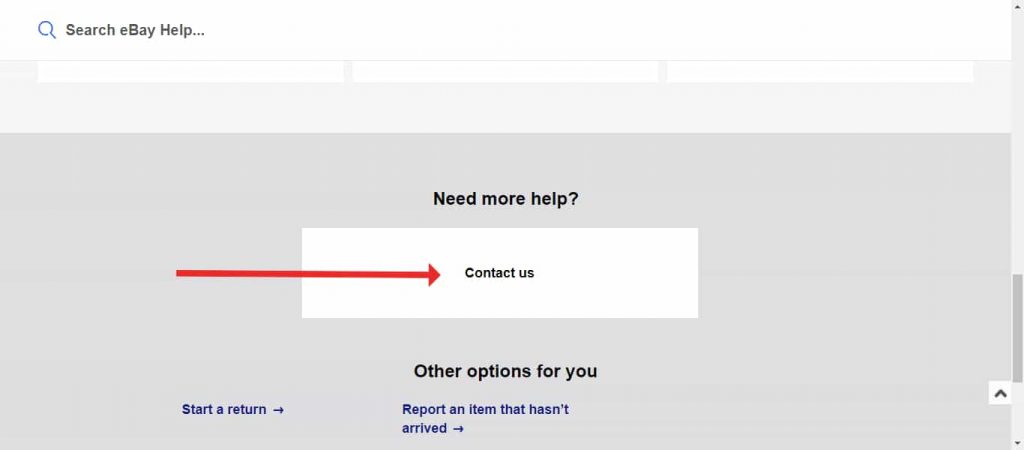 Step.4 Click Email us
It will take you to the email eBay service. If you are already logged In then, a new box will open.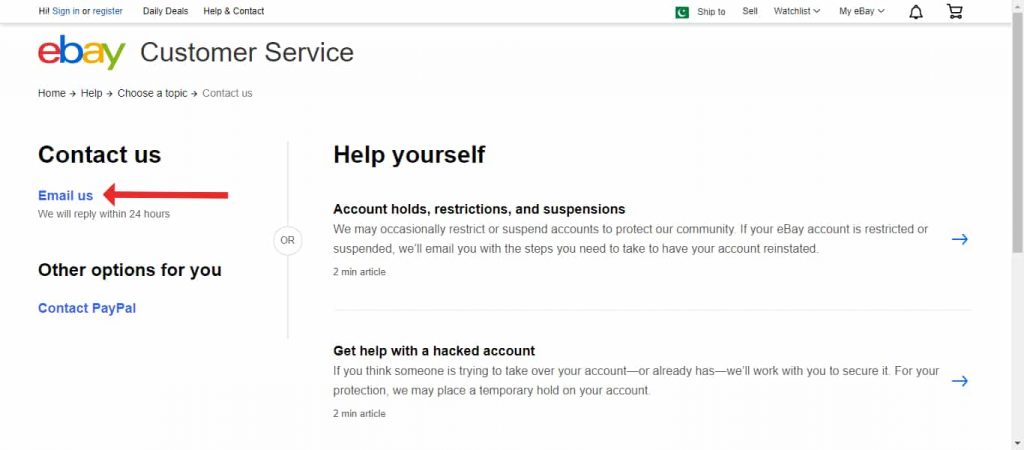 Step.5 Address your issue
This box is everything for you now. You have to address your issue based on the particular type of warning you've got from eBay. eBay comes with some questions in its email. You have to address the problem based on the questions given by them. Make sure to address every question. 
For example, if eBay has emailed you regarding a violation of a copyright issue. Then update your listing and tell them proof that your listing has been updated, and there is no chance of any copyright issue with your listing.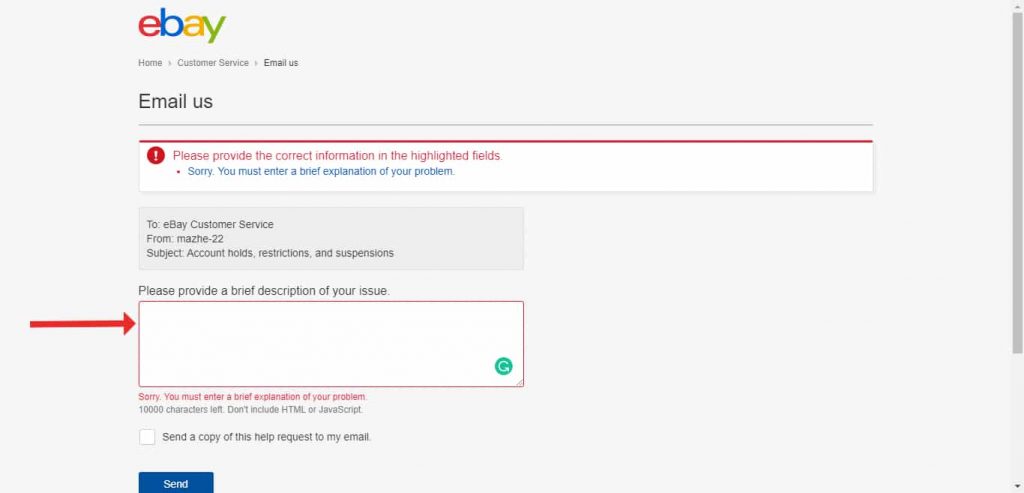 Step.6 Wait and follow up
The last thing is to follow up on the emails from eBay and if they need more proof of your improvements, then provide them without hesitating. If everything goes right, you will receive an email from them that the account has been reinstated.
Conclusion
To wrap up, when a seller is working long-term on a platform, certain violations could occur. There is a positive aspect of these warnings, and it can lead to improvement in the listing, and the seller gets more conscious with his services on eBay. Therefore, instead of getting discouraged, a seller should take it as an opportunity to reinstate his account and improve the quality of his services.
Keep visiting Workjoes for more information on Work From Home, Business, Workplace, Career, Office Decor, and Online Courses.