People always struggle when finding a name for their new startup. If you are one of them and looking for a name for your cafe then you are at the right place. We have a collection of over 220 name ideas for cafe-by-day and bar-by-night business. 
We have curated this list with different name ideas such as Funny, Cute, Creative, and Catchy. This comprehensive list of names will definitely help you find the best name for your cafe business.
Let's dive into the list of names.
Funny Names For Cafe-By-Day And Bar-By-Night Business
Infuse your cafe-by-day and bar-by-night business with laughter and delight. Dive into a collection of names that add a playful twist to your dual-concept space, offering a lighthearted touch to both your morning coffee crowd and evening revelers.
Dawn to Dusk Delights
Sunrise to Moonlight Lounge
Café Nocturne & Daybreak Bar
LunaCafé & Solstice Lounge
Twilight Brews & Midnight Spirits
Sun & Star Sips
A.M. to P.M. Pourhouse
Eclipse Eats & Ember Spirits
Rise 'n' Sip Lounge
Daybreak Bites & Nightfall Nectar
Moonlit Grind & Stellar Spirits
Sunrise Soiree Café & Moonshine Bar
Morning Brews & Moonlit Moods
Dawn 'til Dusk Tavern
The Celestial Cafe & Nightcap Nook
Aurora Café Lounge
Café Constellate & Nightwave Bar
Solar Flare Café & Lunar Lounge
Espresso Eclipse & Moonbeam Mixology
Daydream Diner & Starry Night Lounge
Perk Up & Cheers Down Cafe-Bar
Java Jive & Tipsy Tango Tavern
Brews 'n Booze Bistro
Caffeine Buzz & Nightcap Nonsense
Sip 'n' Gulp Hideout
Mocha Mornings & Mojito Evenings
Bean There, Drunk That Cafe-Bar
Espresso Yourself, Impress-o at Night
Latte Lounge & Lush Libations
Cup o' Joe & Shots Afterglow
Daylight Drips & Moonlight Sips
AM Ambience & PM Partygrounds
Sip Happens – Cafe by Day, Bar by Night
Crank & Cheers Collective
Cafe Comedy & Bar Brouhaha
Mornings Unfiltered, Evenings Uncorked
Giggle Grind & Giggle Gin
Rise & Shine Cafe, Toast & Roast Bar
Chuckles Cafe & Cheers Corner
Dawn Decaf & Dusk Drunkery
Frothy Dawn & Fizzy Dusk Lounge
A.M. Grins & P.M. Gin
Latte Laughs & Libation Lunacy
Rise 'n' Grind Cafe, Toast 'n' Boast Bar
Espresso Euphoria & Tipsy Tidbits
Wink & Drink Café-Bar
Brew Banters & Cheers Chronicles
Double Shot Delights & Double Shot Nights
Morning Roasts & Midnight Toasts
Smiles & Spirits Hideaway
Café Chuckles & Moonshine Moments
Giggles Galore Cafe & Grins 'n' Gin Bar
Perk It Up & Cork It Down
Sunshine Sips & Starry Sips
Chuckle Cuppa & Guffaw Goblet
Bean Banter Café & Brew Bash Bar
Latte Laughter & Lively Libations
Rise 'n' Roasts, Toasts & Tipples
Espresso Expressions & After-Dark Ales
Coffee Cracks & Cocktails Crescendo
Dawn Brews & Dusk Brewskees
A.M. Grins & P.M. Pours
Cafe Comedy Club & Bar Banter Bash
Smile in a Cup Cafe & Sip in Style Bar
Wakey Wakey Brews & Shaky Shaky Brews
Chuckle Chai & Tipsy Talk
Laughs over Lattes and cheers over Cocktails
Espresso Ecstasy & Boozy Banter
Sunrise Sippables & Moonlit Mingles
AM Antics Café & PM Pizzazz Bar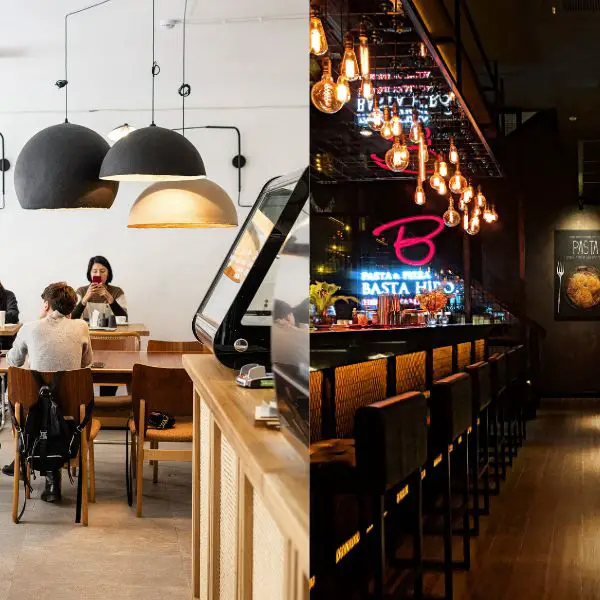 Cute Names For Cafe-By-Day And Bar-By-Night Business
Embrace the charm of endearing names that bring a touch of sweetness to your cafe and bar fusion. Explore a selection of names that create an inviting atmosphere, enchanting your patrons with a sense of warmth and comfort throughout the day and night.
Sweet Sunrise & Cozy Moonlight
Snuggle Sips & Starlit Sodas
Bunny Hops & Firefly Frolics
Paws 'n' Pours Café-Bar
Fluffy Mornings & Fizzy Evenings
Hug-a-Mug Café & Sip-a-Star Bar
Teddy Brews & Twinkle Tipples
Whisker Winks & Whimsy Wines
Purrfect Perks & Twilight Treats
Cuddle Cuppas & Constellation Cocktails
Dreamy Daybreaks & Sip 'n' Slumbers
Cuddles & Cocktails Cove
Flutterby Feasts & Firefly Flair
Peppy Paws & Mellow Moons
Giggles 'n' Grinds Cafe-Bar
Furry Mornings & Gleaming Goblets
Chirpy Cheers & Cozy Sips
Toes-in-Sand Café & Stars-in-Sky Bar
Sip & Snuggle Sanctuary
Lovebug Lattes & Whisker Whispers
Smooch Sips & Celestial Chugs
Cuddle Corner Cafe & Starlight Sips
Fuzzy Feelings & Glowing Glasses
Rainbows & Rosé Retreat
Pawprints & Pours Pavilion
Tails & Tidbits Terrace
Teddy Bear Brews & Moonlit Mingles
Fluffy Friends Café & Sparkling Stars Bar
Waggles & Whiskers Wonderland
Honey Sips & Heartbeat Hugs
Giggly Goblets & Glee Galore
Paws 'n' Pours Paradise
Rainbow Mornings & Twinkle Tunes
Cute Cravings Café & Starry Sip Station
Snuggle Sips Hideaway
Cuddle Corner & Comet Cocktails
Rosy Brews & Glitter Goblets
Cozy Whiskers & Captivating Cosmos
Darling Dawn Café & Starry Nights Nook
Warm Fuzzies & Sparkling Sodas
Chirpy Sips & Cosy Quarters
Playful Pours & Petal Pixies
Fluffy Mugs & Sparkling Sprinkles
Sip & Snuggle Soiree
Sunshine Hugs & Moonbeam Munchies
Cuddle Cappuccinos & Constellation Coolers
Kitten Kisses & Nebula Nectars
Hug-a-Hot-Cup Café & Twinkle Toast Bar
Adorable Aromas & Starry Sips
Furry Frolics & Nighttime Noshes
Creative Names For Cafe-By-Day And Bar-By-Night Business
Embark on a journey of imagination with names that transcend the ordinary. Delve into this assortment of innovative names that reflect the dynamic synergy between your daytime café and nighttime bar, capturing the essence of your unique dual identity. Sometimes weird names also work like magic and people remember them.
Aether & Ember: Café Alchemy & Bar Magic
Quantum Quench & Nebula Nectar
Espressospace & Galactic Goblets
Cogs 'n' Cocktails: Steam & Stars
Whimsy's Café Odyssey
Enigma Elixirs & Beyond Brews
Wink & Whisper Café-Bar
Echoes of Dawn & Whispers of Dusk
Solstice Synergy Sips
Stellar Steeps & Astral Ales
Labyrinthine Lounge Lattes
Nebulous Nocturne: A Café Cosmos
Chroma Café & Luminary Lounge
Tesseract Tidbits & Infinity Imbibes
Cafe Chromatic Chiaroscuro
The Eureka Espresso & Twilight Teasers
Kaleidoscope Café Chronicles
Twilight Tonic Tavern
AstraBrew Café: Where Stars Sip
AnimaCafé & EtherBar
Chimeric Sips & Enigma Elixirs
Utopia Uplifts & Quasar Quenchers
Nebula Nomads Café-Bar
Syzygy Sips & Whirlwind Whiskies
Enchanted Espresso & Midnight Mystique
Café KaleidoSphere & Stellar Stirs
Ethereal Eats & Celestial Sips
ChronoCafé & Quantum Quaffs
Mosaic Moon Café & Echoing Ember Bar
Wisp & Whirl Café-Bar
Esprit Espresso & Aurora Ales
Luminous Lattes & Sublime Spirits
Café Conundrum & Bar Beyond
Portals & Pours Pavilion
Perplexpresso & Enigmatini Lounge
Mirage Mugs & Mirage Martinis
Café Cortex & Vortex Vibes
Mirage Morning & Mirage Mingle
Utopia Uptown Café & Euphoria Elixirs
Café Mirage & Twilight Trance
Enigma Eats & Aether Aperitifs
Holographic Highs Café-Bar
EchoEats & Starshine Sips
Transmogrify Café & Etherium Elixirs
Café Kaleidoscope Conundrum
Spark's Spectrum Café-Bar
Tidal Temptations & Nebula Nights
Hyperspace Hues Café & Quasar Quenches
Celestial Cravings & Esoteric Elixirs
HypnoHues Café & Cosmos Cordials
Catchy Names For Cafe-By-Day And Bar-By-Night Business
Unleash the power of unforgettable names that resonate in the minds of your customers. Discover a range of catchy and vibrant names that not only define your cafe-by-day and bar-by-night concept but also leave a lasting impression on all who enter your doors.
Sip 'n' Stars Lounge
Elixir Eclipse Café-Bar
Whimsy & Whiskey Haven
MingleMug Café & Starlit Spirits
Brews & Moonbeams Den
Café Curiosities & Cosmos Cocktails
Chalice & Constellation Corner
Sparkle & Sip Speakeasy
Enchanted Brews & Twilight Tidbits
CosmoCup Café & Mystique Mixology
Luminary Latte Lounge
ZephyrZone Café-Bar
Astral Alchemy & Brew Brio
Celestial Caffeine & Nocturnal Nectars
Quirk & Quench Social Hub
Whirlwind Wonders Café-Bar
Mirth & Moonshine Mansion
Enigma Sips & Ethereal Eats
Dreamweaver Drinks Den
Café Enigma & Ember Enchants
Brewisphere & Nebula Nosh
Apex Aromas & Midnight Mirth
Cosmos & Cocktails Convergence
Spectrum Sips & Aurora Ales
Nectar Nebulae Café-Bar
Euphoria Elixirs & Starbound Bites
Quasar Quaffs & Café Conundrums
Mirage Mugs & Mystic Mixes
Café Kaleidoscope & Quirk Quench
Spark & Specter Sips
Quantum Quenchers & Cosmic Cuisine
Riddle & Ripple Café-Bar
Shimmering Sips & Serendipity Spirits
Mirage Moments & Mirage Munchies
Luminary Lounge Lattes
Arcane Aromatics & Twilight Tinctures
Perplex & Pour Pavilion
Ethereal Essence & Brew Brigade
Glint & Gulp Café-Bar
Flux & Flavors Fusion
Celestial Chalice & Charmed Cheers
Café Curiosity & Cocktail Chronicles
Enigma Edibles & Eclipsed Elixirs
Wisp & Whimsy Waterside
Astral Aromas & Quantum Quaffs
Mirage & Mirth Café-Bar
Brewscape & Cosmos Carafes
Puzzled Pours & Spirited Solstice
Enigma Eats & Sparkling Speakeasy
Prism Palette Café & Aurora Ales
Conclusion
We hope this list has helped you find the right name for your cafe business. If you need to add any names for our readers or want us to find anything for you please write in a comment.