People become mystery shoppers for different reasons. Some are looking for careers while others are looking for a side income to help pay some bills. 
Mystery shopping has been gaining popularity in recent years. It offers a great opportunity to those who love shopping and want to make some extra cash while doing so. 
It's a fun and interesting way to work. It gives you the chance to interact with people, visit different stores and be part of a non-traditional workspace. 
In this blog, we'll take a closer look at mystery shopping jobs, what they entail, and why they might be a great fit for you. 
Whether you're looking for a flexible side gig or a regular job, this could be the opportunity you've been searching for. 
So, if you're curious about mystery shopping, keep reading to learn more!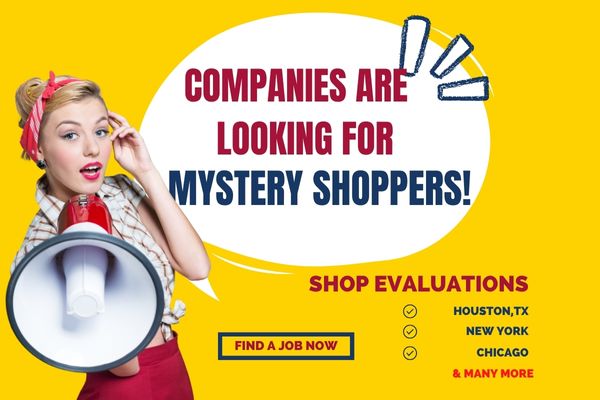 Benefits of Mystery Shopping Jobs
There are many benefits of Mystery shopping jobs and a few of them are,
Flexibility In Scheduling
They offer a high degree of flexibility in scheduling shops. This means you can choose the time and location of the shop according to your schedule. If you are traveling downtown for a meeting and you want to complete a shop on your way back then it's completely fine. You can pick a shop that comes on the way and the corresponding time.
In simple terms, it allows people to work around their own schedule and balance work with their other commitments.
High Earning Potential
Mystery shoppers can earn between $20-$100 per shop and it does not more than 30 minutes to complete a shop. Some shops demand more tasks and more time and you get more fees for that.
I have seen some experienced mystery shoppers make between $500-$1500 every single month.
Ability To Work Independently
Mystery shoppers are individual contractors for the company. It allows individuals to work independently, it is especially attractive for those who prefer to work solo.
Opportunity To Earn Extra Money
It is surely a great way to earn additional income, either as a full-time or part-time gig.
Fun and Excitement 
Some find mystery shopping jobs to be enjoyable and even thrilling. They get to experience new and exciting environments while also getting paid.
Mystery shopping jobs offer a range of benefits as they provide flexible, independent, and exciting job opportunities.
Find Mystery Shopping Jobs Here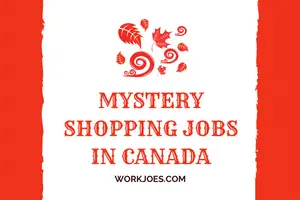 Mystery Shopping Jobs in Canada
Types of Mystery Shopping Jobs
Mystery shopping is done in-store, over the phone, or even online. Shoppers are given specific guidelines and objectives to follow, such as making a purchase, asking certain questions, or simply observing. They then provide a written report or complete an online survey to share their observations and experiences.
Mystery shopping can be broadly divided into 3 categories,
In-store
Online 
Telephone
Apart from these 3 main categories, there are many other types of Mystery shopping.
Read to Know more about the types
Qualifications and Skills Required
Though there are no strict qualifications or skills to work as mystery shoppers. But to excel in the field and conduct evaluations regularly you need to have some skills that are essential for this.
To grow your reputation as a mystery shopper you have to work according to your schedule and provide reports or feedback within the deadline.
This will increase your chances of getting more shops to complete. The more shops you do the more you earn.
Let's look at some of the skills required to be a successful mystery shopper.
Good Communication Skills
You should be able to communicate effectively with store employees and customers. You need to have good interpersonal skills and the ability to strike up conversations with ease.
Ability To Follow Instructions
As a mystery shopper is it very important to follow the instructions given for that shop. Each job is different and the objective behind conducting a shop is different. So you have to read all the instructions and follow them as it is. 
Attention To Detail
You have to pay close attention to details such as product displays, customer service, and overall store appearance. You should be able to remember specific details and observations to accurately complete the reports.
Objectivity And Impartiality
As a mystery shopper, you must be able to write clear, concise, and detailed reports of your observations. You should present your observations clearly and objectively.
Reliable
Companies or agencies depend on their evaluators to complete shops within a time frame and submit reports within the deadlines. A reliable mystery shopper completes shops and submits reports within the time frame.
Discretion: 
As a mystery shopper, you have to be discreet and maintain confidentiality about your assignments. You can not let anyone know or even guess that you are a mystery shopper.
How to Get Started with Mystery Shopping Jobs
If you are a beginner and looking to start mystery shopping then here are some steps to follow.
Step 1: Research Reputable Mystery Shopping Companies
The first step is to find some legit mystery shopping companies. You can refer to our List of 400+ mystery shopping companies globally. Read online reviews, and check their payment system, and terms of engagement to select good companies that pay on time.
Step 2: Create A Strong Profile 
Once you have selected the companies the next step is to create accounts and edit your profile.  Fill in all the required details like your personal details, contact information, work experience, qualifications, location details, etc. Make sure the profile is complete and looks legit. Always use a working email that you check regularly.
Step 3: Apply For Open Assignments
In the next step, you have to check their job boards or your email for shop updates. Apply to open shops that you can complete. Always remember that mystery shopping assignments are typically on a first-come, first-serve basis. So apply if you find any suitable jobs. Some of the popular job boards are Ishop for Ipsos, Sassieshop, Bare International, etc.
Step 4: Prepare For And Complete The Assignment
Last but not least prepare for the assignment you have been selected for. Read all the job details very carefully and execute them as directed. Collect all necessary information like images, receipts, notes, etc. 
Step 5: Prepare & Submit the Report
Once you have completed the shop(s), the next step is to prepare the report. Prepare it on the same day and submit it. Be precise and objective with your answers. Get in touch with your scheduler for any updates or clarifications.
Common Challenges and Solutions for Mystery Shoppers
Like any other job, Mystery shopping also comes with some challenges. Some of the common challenges mystery shoppers face include:
Balancing Multiple Assignments
While you are a beginner it is often a big challenge to handle multiple assignments at a time. Experienced mystery shopper knows how to handle multiple assignments while completing each one with perfection. It is essential to complete each shop as directed. 
Solution
Always Plan ahead: Always keep track of your mystery shops otherwise you will get lost. Schedule your mystery shopping assignments well in advance, and try to group them together to save time. Follow the instructions and cover all the points.
Keeping Accurate Records And Submitting them On time
Reports are the second most important part of any mystery shopping. You have to give all the necessary information accurately and within the time frame. Your feedback can guide the fate of a shop and its employees, so you have to be accurate. You have to  Safely keep receipts, remember key information, and take pictures which can be challenging. But with proper planning, you can easily overcome this.
Solution
Take notes in the shop( if you can) or pen them down as soon as you finish them. Double-check everything as if no point is left behind. Organize your receipts for different shops completed.
Maintaining Objectivity And Impartiality
As a mystery shopper, you can not be a storyteller, you have to be objective and impartial. If you are evaluating your favorite Pizza outlet and you notice something which has to be reported then please include it in the report.
Solution
Always go with an open mind you are neither against them nor with them Note what you see, and feel. Include them in your report in a clear and precise manner. If you notice something unusual then include it in the report.
Keeping A Low Profile:
As a mystery shopper, you have to work without drawing attention to yourself. This can be a challenge for some individuals who find it difficult to play a role and pretend to be regular shoppers.
Solution:
Practice blending in: Consider role-playing with friends or family to improve your skills. Build confidence in your ability to blend in and avoid drawing attention to yourself.
Conclusion
Mystery shopping jobs are a great opportunity for those who love shopping and dining for free. These jobs offer a flexible schedule, a unique and non-traditional work environment, and get paid while shopping. 
If you have the right mindset and skills for it you can do very well at this. Though it brings some potential challenges with some planning and preparation, you can be a successful mystery shopper. 
Whether you're looking for a part-time gig or a full-time career, mystery shopping jobs can be a valuable and enjoyable addition.