Mystery shopping is the perfect gig for you to make some quick money. In this article, we'll tell you how and where to find the best mystery shopping jobs in the USA. We will also cover what are the requirements to become a mystery shopper in the USA.
So if you're ready to make some quick cash for giving feedback, read on!
How to become a mystery shopper in the USA?
There are no strict rules and guidelines to becoming a mystery shopper. To become a mystery shopper in the United States, 
The minimum age should be 18 years of age 
A valid email address to communicate.
Access to the Internet and a Computer
A smartphone that can take decent images
Should be able to write neat English for reporting
What are the initial steps to begin working as a mystery shopper in the USA?
The job of a mystery shopper is very crucial because based on the feedback businesses make strategic decisions. They measure the quality of service/products, customer experience, cleanliness, merchandising, staff behavior, and much more.
A mystery shopper poses as a customer and evaluates the store/restaurant by observing each part, making purchases, taking photos, asking questions, and taking videos.
Here is the process to become a mystery shopper in the USA:
Step 1:
Search for reputed and legitimate Mystery shopping companies in the USA. There are many big names in the USA like Marketforce, IPSOS, Bare International, ACE, ICX, etc.
Step 2: 
Register with these companies. As a beginner, you can start with one or two. Complete your profile and fill in all required information.
Step 3: 
Once your application is approved(which happens automatically). You can now log in to their job board with the username and password you created while registering.
Step 4:
Check for shops or evaluations in your areas. If you find any and are confident that you can do it, apply. 
Step 5:
If you are selected you will get an email with the confirmation. Do not go ahead until you get a confirmation email from the company. 
Step 6:
Read all instructions carefully before you proceed to start the evaluation.
Step 7:
Always be in touch with your scheduler for any updates or clarifications required for the job.
Step 8:
Complete the shop evaluation and do as you have been directed. Follow all the guidelines and instructions given for the shop.
Step 9:
Write your report and be precise and don't leave anything. Submit the report in time along with photographs or receipts (if any).
Step 10:
Check to see if the shop is duly completed and don't forget to check the payment due date.
How to find mystery shopping jobs in the USA?
Searching for mystery shopping jobs in the USA is an easy process. Here is how you can do it.
Search online job boards like Ishop for Ipsos, Jobslinger, Sassieshop, WAHM, etc. There will be plenty of opportunities in your area.
Search for reputed mystery shopping company websites like Bare International. Marketforce, Tern, Maritz, IPSOS, etc.
Check Mystery shopping forums for new opportunities
What to expect as a mystery shopper in the USA?
As a mystery shopper in the United States, you can expect these things
You will earn payment for each shop completed successfully. Every company has a different payment plan. Some take weeks and some take months to release payment.
If there is any purchase then reimbursement will happen after you submit the receipt (Check shop guidelines for details)
Each job will have specific instructions and it is important to adhere to those instructions. 
After each job, you will submit a report detailing your experience. This report is important in helping businesses improve.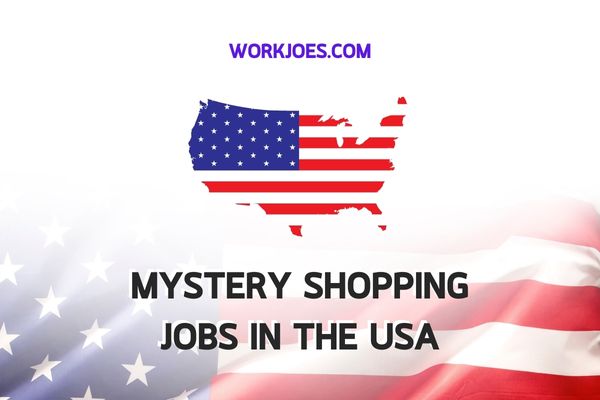 Workjoes has the largest source of mystery shopping jobs in Your Area. We have hundreds of mystery shopping job schedulers posting thousands of job opportunities on our site every single day!   Instantly we find the jobs you want in your area (US, Canada, and All Over the World), according to your preferences, and deliver those jobs straight to your email inbox.
Every day people just like you is getting paid to eat, shop, go bowling, see movies, and even get their gas tanks filled. It's absolutely true. Workjoes will deliver these jobs, and many, many more, right to you immediately as they become available AND show you how to win these jobs consistently! It does NOT get any easier than this.
Mystery Shopping Jobs in Alabama
Mystery Shopping Jobs in Alaska
Mystery Shopping Jobs in Arizona
Mystery Shopping Jobs in Arkansas
Mystery Shopping Jobs in California
Mystery Shopping Jobs in Colorado
Mystery Shopping Jobs in Connecticut
Mystery Shopping Jobs in Delaware
Mystery Shopping Jobs in Florida
Mystery Shopping Jobs in Georgia
Mystery Shopping Jobs in Hawaii
Mystery Shopping Jobs in Idaho
Mystery Shopping Jobs in Illinois
Mystery Shopping Jobs in Indiana
Mystery Shopping Jobs in Iowa
Mystery Shopping Jobs in Kansas
Mystery Shopping Jobs in Kentucky
Mystery Shopping Jobs in Louisiana
Mystery Shopping Jobs in Maine
Mystery Shopping Jobs in Maryland
Mystery Shopping Jobs in Massachusetts
Mystery Shopping Jobs in Michigan
Mystery Shopping Jobs in Minnesota
Mystery Shopping Jobs in Mississippi
Mystery Shopping Jobs in Missouri
Mystery Shopping Jobs in Montana
Mystery Shopping Jobs in Nebraska
Mystery Shopping Jobs in Nevada
Mystery Shopping Jobs in New Hampshire
Mystery Shopping Jobs in New Jersey
Mystery Shopping Jobs in New Mexico
Mystery Shopping Jobs in New York
Mystery Shopping Jobs in North Carolina
Mystery Shopping Jobs in North Dakota
Mystery Shopping Jobs in Ohio
Mystery Shopping Jobs in Oklahoma
Mystery Shopping Jobs in Oregon
Mystery Shopping Jobs in Pennsylvania
Mystery Shopping Jobs in Rhode Island
Mystery Shopping Jobs in South Carolina
Mystery Shopping Jobs in South Dakota
Mystery Shopping Jobs in North Dakota
Mystery Shopping Jobs in Tennessee
Mystery Shopping Jobs in Texas
Mystery Shopping Jobs in Utah
Mystery Shopping Jobs in Vermont
Mystery Shopping Jobs in Virginia
Mystery Shopping Jobs in Washington
Mystery Shopping Jobs in West Virginia
Mystery Shopping Jobs in Wisconsin
Mystery Shopping Jobs in Wyoming