Graphics designing is an important part of any business. Any business needs some kind of design whether it's a logo, poster, banner, or social media post. If you are in an online business then the need for graphic design is paramount.
Most online or digital businesses such as media houses, magazines, publications, websites, eCommerce sites, and online stores all have dedicated graphics designing teams to cater to all requirements.
As a graphics designer and digital marketer, there is a critical need for an online tool that can help you create graphics easily. One such new but amazing app is Stencil.
If you are a blogger then chances are you must be using Canva but Stencil is a quick and efficient alternative to Canva, let's learn with the Stencil App Review.
What is Stencil App?
The importance of images in online business cannot be understated. In a world where consumers are bombarded with marketing messages from all sides, the power of a well-chosen image can make all the difference.
Stencil is a powerful app that lets you design beautiful images with some rich and easy-to-use tools. If you are a business owner, blogger, digital marketer, freelancer, or social media marketer, Stencil has something for everyone.
Stencil is now a part of the World's leading domain registrar Namecheap. The concept started in 2012 and it has been growing steadily since. On 1st November 2021, Namecheap acquired Stencil.
The best part of Stencil is that you can integrate it with your favorite web browsers like Google Chrome and safari and WordPress dashboard.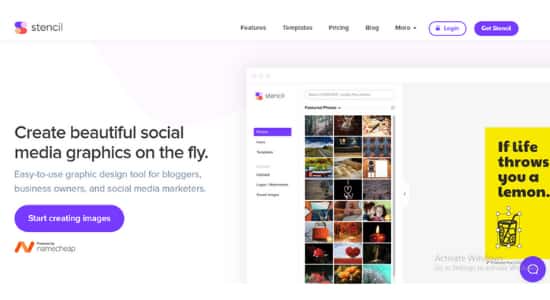 Why Use Stencil App for Graphic Designing?
The Stencil app is a great tool for creating images. Images are one of the most effective ways to communicate a message, and when it comes to online business, they can be used to great effect.
Whether it's product photos, screenshots, or infographics, the right image can grab attention and convey information in a way that text alone simply cannot.
In addition to being visually appealing, images can also help to break up text and make complex concepts more understandable. When used correctly, they can enhance the user experience and make your website or blog more enjoyable to read.
Images can be a great way to build trust with your audience. By featuring photos you can show that you're a real, relatable business – and that's something that consumers will always respond positively to.
So it is always beneficial to use images in any business, but Why should you use Stencil and not any other app. Here are the Pros(Advantages) and cons(disadvantages) of using the Stencil app.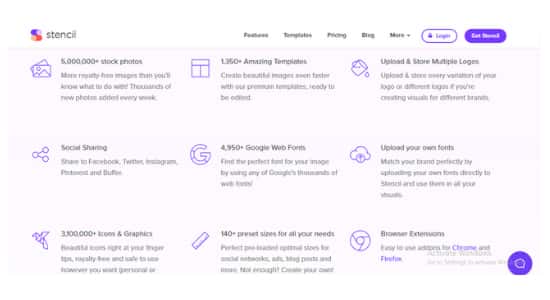 Pros
It is the quickest, effortless, and most organized.
Huge stock of assets like photos & icons. It has 5M+ stock photos and 3M+ Icons and graphics.
1500+ ready-made templates to be customized 
It is made for social sharing images directly from the app
5000+ fonts are available and you can add/upload your fonts too.
150+ preset sizes for you to choose from( no need to wonder what is the correct size for a post or banner or profile photo
Chrome and Firefox browser extensions are available
WordPress plugin for easy integration with your website
On can schedule images to be shared at a predefined time
Can convert images to bit.ly links easily
Great Customer support for any needs
Cheaper plan per person if you compare it with Other apps like Canva
Cons
Relatively new compared to other alternatives like Canva
The free plan has very limited features unlike Canva
fewer stock photos, graphics, and Icons
Limited Premade sizes
No Cloud Storage facility
Starting with Stencil App and Creating your First Image
Stencil is an easy-to-use app to create images, posters, logos, and much more. Let's see how can you create an account and make your first image for free.
Step-1
Visit Stencil WebsiteGo to getstencil.com, the official website of the stencil app.
Click on the Start creating Images button on the screen. It will take you to the pricing page, but don't worry you don't have to pay anything, it has a free plan.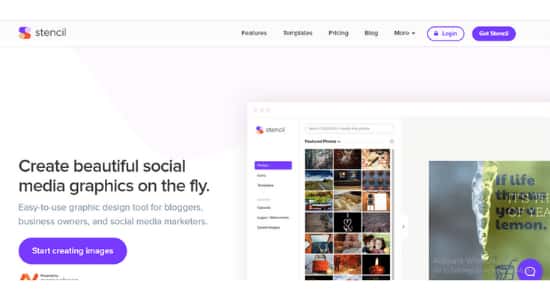 Step 2- Select A plan
You can start with the free plan as a beginner. I am selecting the free plan to see what is inside the free plan.
Click on the Get Started button and it will take you to the next step.
Step 3 – Sign Up for an Account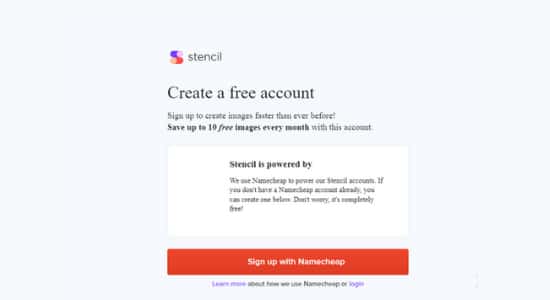 You can create or sign up in two ways
Create a new account with Namecheap
Use your existing Namecheap account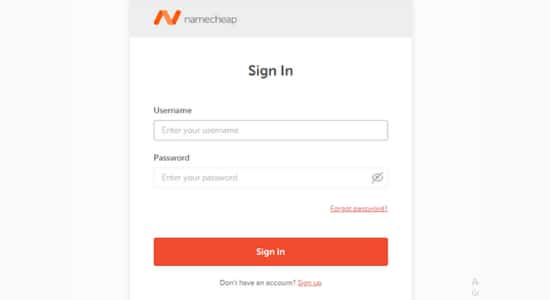 As I already have a Namecheap account I am logging in using my Namecheap credentials.
Login to your Namecheap account using your credentials and you will be directed to the Stencil app upon successful login.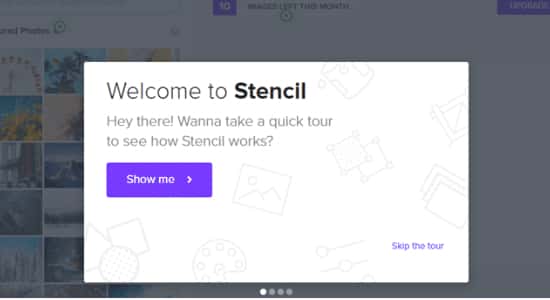 You will be taken on a tour of your account and what activities you can do inside the app.
Adding text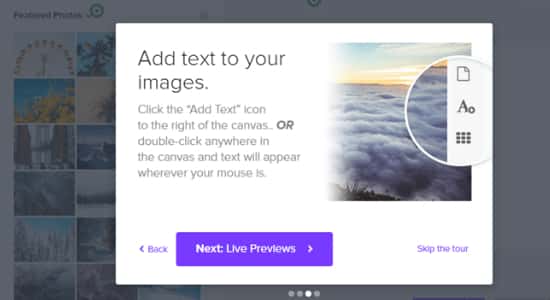 you can add text over images or on any background and edit the font, design them and do much more.
Check Live Previews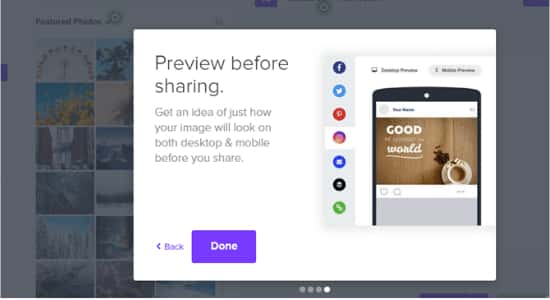 Check live previews before you save or download or share them.
Once the tour is finished you will be on the dashboard of Stencil and the dashboard looks something like this.
How to Use Stencil – Inside View of the App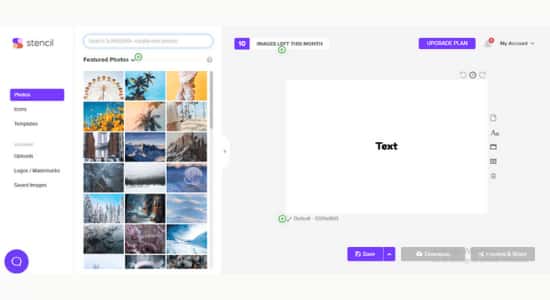 The dashboard of the Stencil app looks like this. It has the main working area on the right-hand side where you can work on a template or image.
The images, icons, and templates are on the left-hand side of the dashboard. Control settings are on the right-hand side next to the working area. The top menu shows the no of images available for that month, the upgrade plan button, and my accounts tab.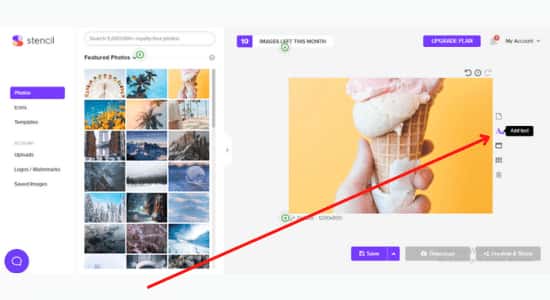 Add Text
If you want to add text on top of an image or a templet then you can click on icon A as shown in the image.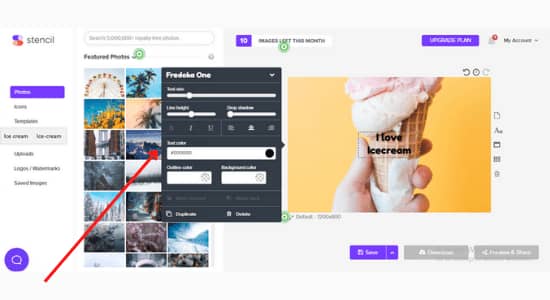 Once the text is added you can edit the font type, size, line height, text color, and background color, and you can so add some animation to the text here.
Create a New Image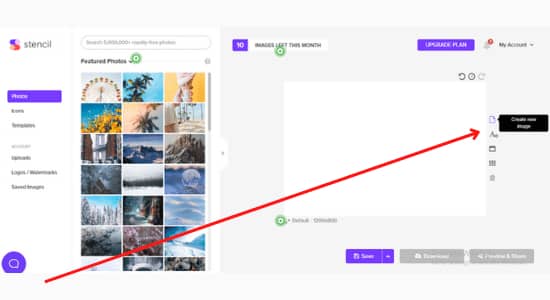 If you want o to create a new image then click here, once you click on it it will create a new blank image of size 1200 x 800 pixels. If you want to change the size then click on the bottom link as shown in the image and it will pop up a new window where you can select any preset sizes of your choice.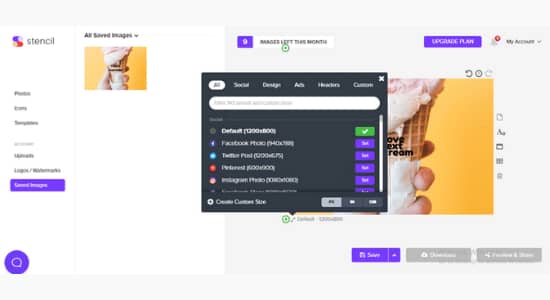 Currently, there are 143 different preset sizes to choose from like Facebook posts, Twitter, Pinterest, Instagram, Facebook stories, profiles, and many more.
Icons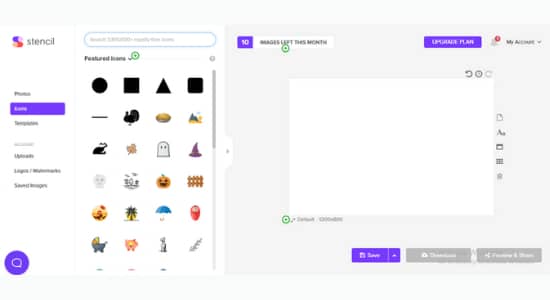 All icons are available and you can search them by name or a different genre. It has a collection of more than 3 million icons and graphics.
Different Templates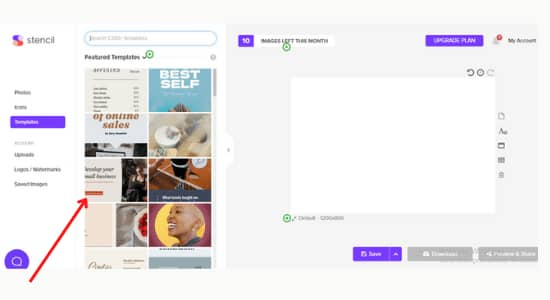 A large collection of 1500+ templates collection is available to choose from. Whether you need a template for a business, social media, travel, fitness, or marketing purpose you will find one.
Upload Images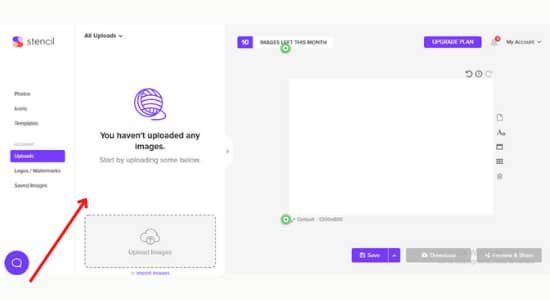 All the images that you have uploaded so far will be shown here. You upload images by selecting the icon Upload image or simply Drag and drop.
Upload logos and Watermarks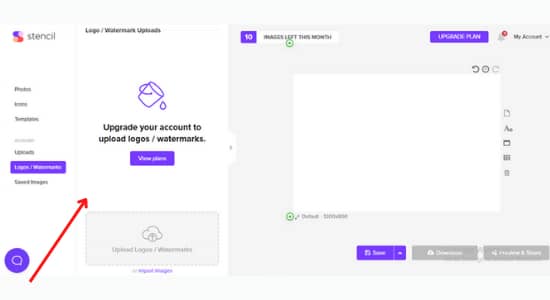 You can upload your own logos and watermarks that you want to apply to your templates, and images, and all of them will be shown here. Since my account is a Free account it doesn't have the feature as it is only for the paid Pro and unlimited plan.
It is important that all images and templates that you create, edit, or customize must be available for future reference. Here you will have them sorted accordingly. You can use them at a later date.
My Accounts Section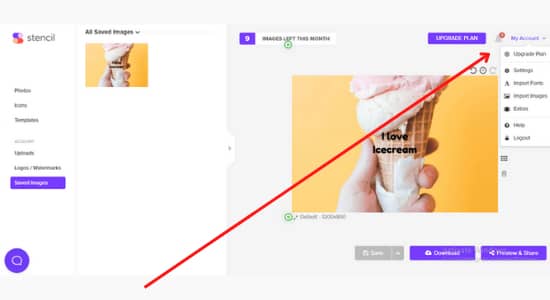 You can access all your account-related information here. If you want to change account-related settings like plan upgrade, import functions, profile, social accounts, password, and notifications you can do it here.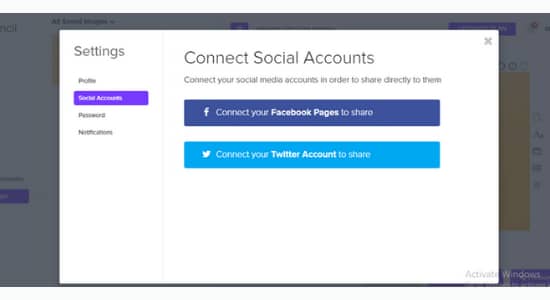 Connect your Social media accounts like Facebook and Twitter account here. Since it is a free plan only two social media integration can be done.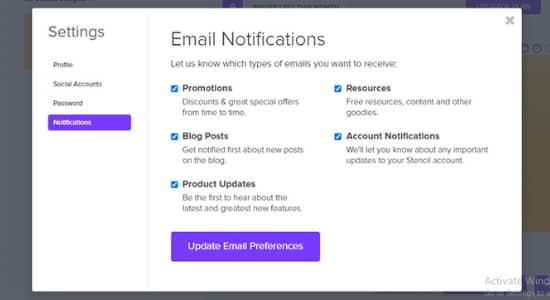 Under the notifications tab, you can change the notifications that you want to receive. There are notifications like Promotions and offers, blog posts, updates, account-related information, and other resources.
You can tick the checkboxes that you want to receive and let the other unchecked which you do not want to receive.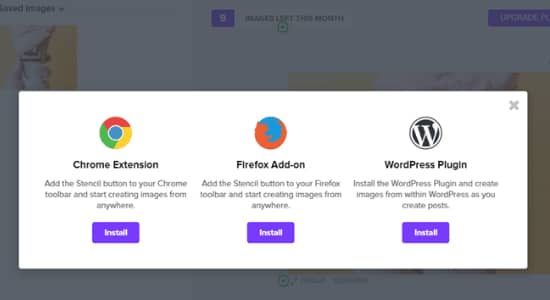 Extras-Under the extras tab, you can find Chrome extensions, Firefox extensions, and a WordPress Plugin download option.
Stencil Pricing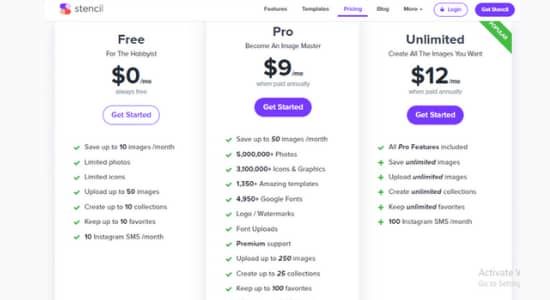 It has 3 plans Free, Pro, and Unlimited. 
| | | | |
| --- | --- | --- | --- |
| Plans | Free | Pro | Unlimited |
| Fees | No charges | $9/month for an Annual plan$15/month for Monthly plans | $12/month for an Annual plan$20/month for Monthly plans |
| No Of Images | Save/download 10 images/monthly | Save/download 50 images/monthly | Unlimited Images |
| Stock Photos and Icons | Access is Limited | Unlimited Access to all Photos and Icons | Unlimited Access to all Photos and Icons |
| Upload Images | Up to 10/month | Up to 250 /month | Unlimited |
| Collections & favorites | Keep Up to 10 collections & Favorites | Keep Up to 25 collections & 100 favorites | Unlimited  |
| Instagram Images | 10/month | 25/month | 100/month |
| Templates | Limited Access | Access to All Templates | Access to All Templates |
| Support | NA | Premium Support | Premium Support |
Stencil Subscription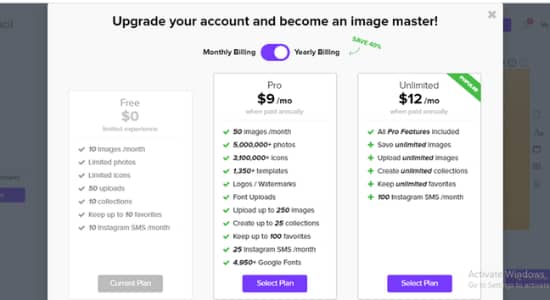 If you are a new blogger or freelancer who is just starting out you can start with the limited Free plan. Later you can subscribe to its Pro or Unlimited Plan which gives access to all photos, icons, and other features.
Businesses, organizations, entrepreneurs, full-time digital marketers, and experienced freelancers and professionals should opt for an unlimited plan as that gives the most value for money. It costs only $12 per month if paid annually.
Stencil on Appsumo
Appsumo is a popular marketplace where you can buy software, app purchase, and licenses at a very unimaginable rate. Stencil is fortunately on Appsumo and they have a great offer for anyone who wants to own a Stencil.
Stencil Deal on Appsumo- Get Stencil at a 97% Discount
Appsumo is offering the Unlimited plan which costs $12 per month on an annual plan at a whopping $49 for a lifetime. This is out of a world offer.
If you are looking for an app that is lightweight and streamlined for social media sharing then Stencil is the name.
Features of Stencil App
Now you must be loving this quick and lightweight image maker that is specially designed for social media sharing. Now let's look at the features of this app. Reading the Stencil App review you will get to know why it is really fast and efficient for graphics designing.
Photos-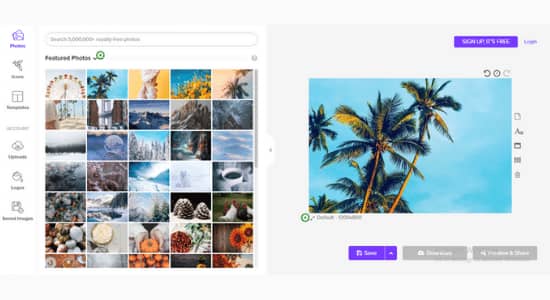 Stencil has a collection of 5 Million + royalty-free stock photos which you can use in your social media posts, nabbers, blog posts, and more. All the photos are in high resolution and contributed by Unsplash, Pixabay, and Pexels.
Icons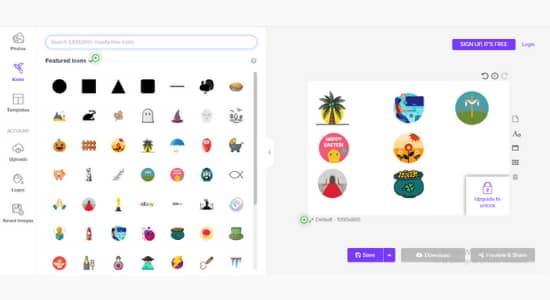 Over 3 million icons, vectors, and graphics to choose from. These are contributed by the Noun Project, round icons, and those icons. These icons are of 30+ genres and categories.
Templates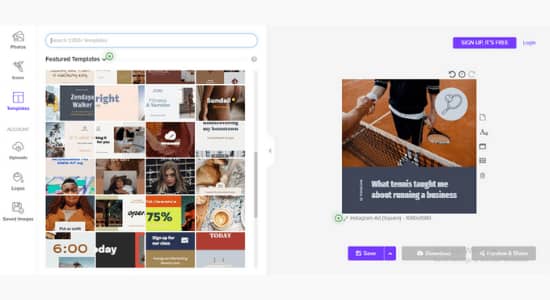 Use any one of the 1350+ templates that are available to edit and customize. Use templates from different categories and use them for creating Pinterest pins, Pinterest ads, Facebook posts, Facebook cover photos, Facebook profile photos, etc.
Instant Resizing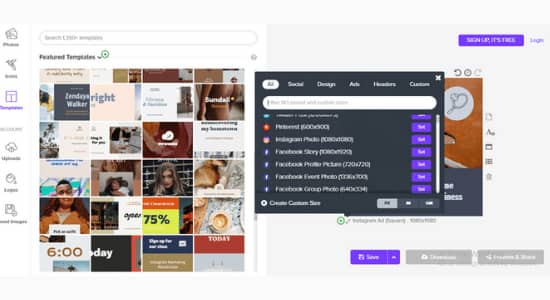 It is difficult to remember the sizes for different blog posts, Facebook posts, Facebook cover photos, profile photos, Instagram posts, stories, ads, pins, and ads but don't worry stencil does it for you. They have a preset of 140+ sizes that can cover your requirement. If you need any custom size you can also do so.
Google Fonts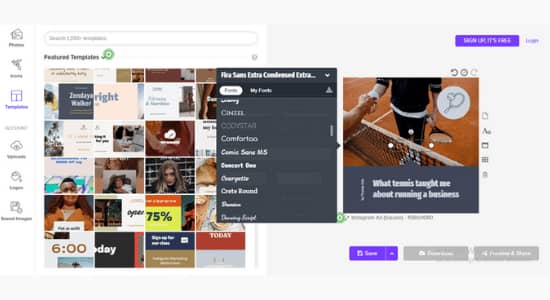 Different posts, ads, and stories require different types of fonts, Stencil has a collection of over 5000+ fonts for you to choose from. The best part is if you want your fonts then you can upload your own font and use it as one image and template.
Color Picker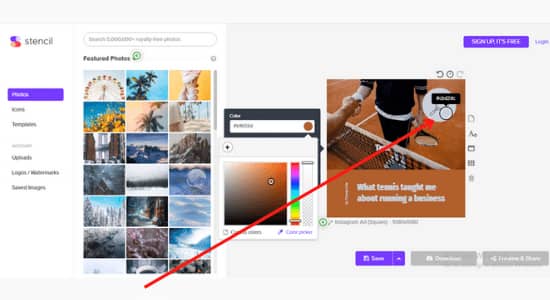 A color picker is a great tool, suppose you want the color of the background to be the same as the color in the image, the Color picker will pick the color from the image and apply it to the background. No more hassle of worrying about the mismatched background and image color. You can do this on anything.
Image Adjustments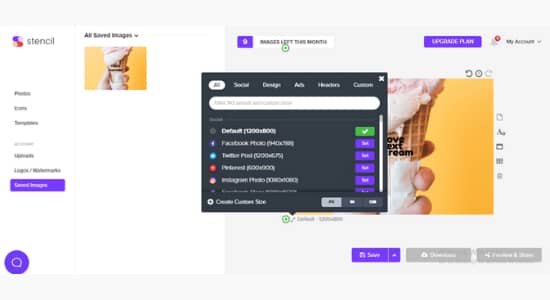 It has many image adjustment settings available that are needed in order to customize an image. It has
Image Filter option- 15 different styles
Blur, transparency, lighten and darken function
Color overlay
Position(forward, backward)
Horizontal, vertical alignment
Image cropping
Facebook ad Grids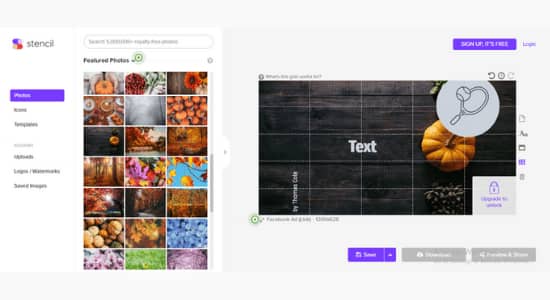 If you run Facebook ads then you must be knowing Facebook does not like ads with more texts. I have seen ads being rejected by Facebook saying too much text on images. The acceptable amount is up to 20%.
To simplify this process Stencil has come up with ad grids so that you can decide the amount of text on an image. If the text crosses 5 groids then it is above the acceptable 20% mark.
Social Sharing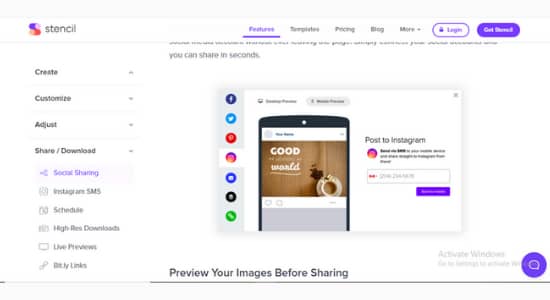 One of the best features that I like about Stencil is the social sharing part. You can share images directly to Instagram, Twitter, Facebook, and Pinterest.
Instagram SMS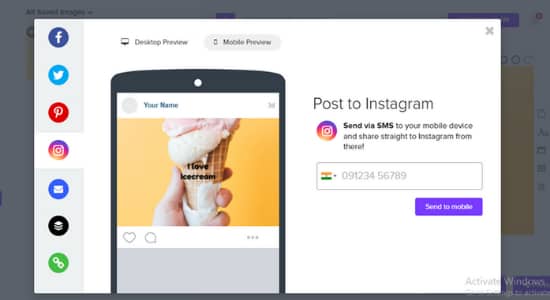 Sharing images directly from your computer to the Instagram app is still prohibited. You have to do it from your mobile phone. Stencils' unique Instagram message system sends these shareable images directly to your phone and you can share them easily to your Instagram account.
Schedule Your Images With Buffer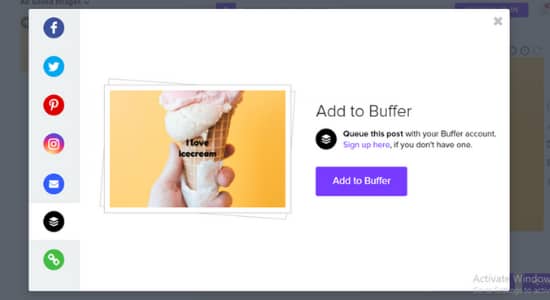 You can schedule your social media apostles with Buffer for posting to different accounts on different platforms.
Live Previews of Images
You can always preview the images you have created live and check how they look and feel. You can check them for desktop, tablet and mobile views as configuring images for different devices is critical nowadays.
Use the Bit.ly Links Function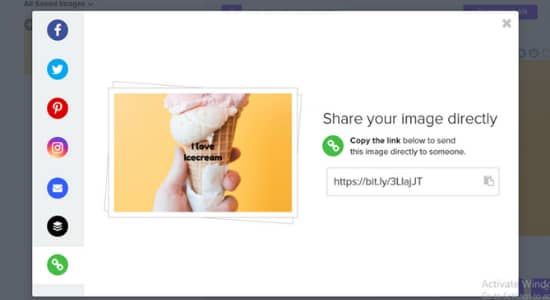 You can directly convert the images to Bit.ly links and share them with friends, clients, and anyone. Once the image is ready click on the Preview and share button at the bottom right-hand corner and you will find a bit.ly link for the image.
Logos / Watermarks
You can upload your own logos and watermarks and apply them to different images or templates.
The good thing about stencil is that it remembers the last position of the logo, for example, if in your last image you had used the logo at the left-hand top corner then Stencil will remember it and in the next images if you apply the logo it will automatically be on the same position.
Keep Your Favorites Saved
Imagine if the app remembers all your favorite images, icons, and templates, the life will be very easy. With Stencil, you can save your favorites with a single click for future reference.
Use Collections To organize Your work
Use the collections feature to organize all of your work. For example, you are working for 10 different clients and how would you manage all the images and templates you build for each of them. Very easy, with Stencils you can keep them organized in Folders ad name them A, B, C, or whatever.
Stencil vs. Canva
| | | |
| --- | --- | --- |
| Description | Stencil | Canva |
| Free Account | A free Account is Available but with Limited Access to Features and Designs | Free Account is Available but it has extended access to different features and designs. |
| Free Trial | No Free Trial of Paid Accounts available. | A Free Trial of a Pro/Paid account is available |
| Video Editing | No, Video editing is not available it is only for creating images | Video editing is available with lots of video templates and stock videos. |
| Tutorials | are there on how to use Different functions | Many Tutorial resources are available in Text and video form to explain each feature and function |
| Image enhancement | Limited Image enhancement Features | Many Image enhancement options |
| Users | Less than 0.5 Million Users worldwide | More than 18 Million users worldwide |
| Languages | Supports only English | Supports more than 100 languages |
| Stock Photos | 5 Million + stock photos | Over 50 million stock photos |
| Icons Collection | 3 Million + Icons | Over 1 Billion Icons |
| Videos | Not available | 1 Million + Stock Videos |
| Devices | Supports Desktop | Supports Desktop, Mobile, tablet & Ipad |
| Wp Integrations | Easy WordPress Integration | Not available |
| Chrome Integration | Yes Available | Not available |
| Safari Integration | Yes Available | Not available |
Conclusion
Stencil app is a pretty solid option for creating custom designs for your business or personal projects. After we completed the Stencil App review,
We were impressed by the number of templates and designs offered on the app and we were able to quickly use one to create a business card template. The app is user-friendly, the interface is nice and simple and it makes it easy to create something awesome.
We hope this article has helped you decide if the Stencil app is right for you! If you have any questions, leave them in the comments below and we'll get back to you!