Namecheap is one of the favorite domain registrars for businesses, bloggers, or digital marketers because of its cost, renewal charges, and irresistible offers. Searching for a new domain name for your new business or finding bulk domains for reselling purposes is an exhaustive task. But with Namecheap beast mode you can find a domain or bulk domains real quick.
Namecheap Beast Mode helps you quickly find desirable domains out of thousands of domain names. It removes unwanted domain names from the search results, making it easier for you to find new domains.
This unique tool has clever domain hacks & offers a list of suffixes and prefixes to assist domain buyers and business owners with new domain ideas. As a result, you will find hundred new domain ideas which you did not even consider before.
What is Namecheap Beast Mode?
Namecheap Beast mode is a bulk domain search tool. It is the fastest way to find bulk domains in a comprehensive manner.
Beast Mode provides a bulk domain search & buy mechanism that is the most advanced in the business.
It is the quickest and also most thorough tool here in the domain market for conducting bulk searches. It allows users to conduct searches concurrently on more than 5,000 terms.
Namecheap, widely regarded as one of the best domain registrars & website hosting companies around the globe, recently announced the availability of a new feature called "Beast Mode."
This is a brand new search feature for domain names that were developed for domain owners, bulk domain buyers, freelancers, and anybody else searching for an ideal web address for their new business venture or startup company. 
Other major competitors of Namecheap do not allow more than 2,000 keywords. The bulk search feature made available by GoDaddy permits no more than 2000 domain names at a time.
Namecheap has the most reliable domain services. 
Best pricing. 
Best service. 
Best UI. 
Best documentation. 
It has the best services for its customers. 
Namecheap's commitment to excelling at a single core function is what strikes me as most remarkable about the company. They are very good at what they do. 
When it comes to domain registrars, Namecheap is comparable to the "Take 5 Oil Change" or "Five Guys Burgers & Fries" franchises. They are EXTREMELY skilled in one particular area. They are quick, friendly, inexpensive, user-friendly, and easy to operate, and they genuinely make the experience enjoyable.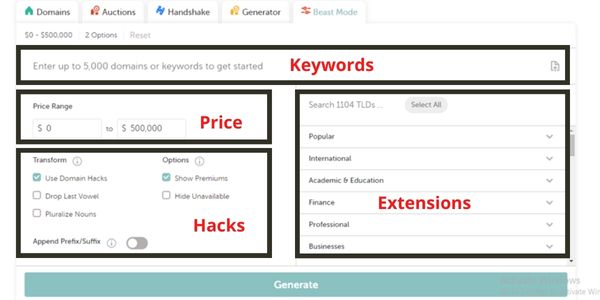 Key Features of Beast Mode:
Let's talk about the best features of Beast mode,
Find valuable Domain Names in a flash:
You can find the best domains to buy much more quickly using beast mode. Thai bulk domain finder tool helps you find valuable domain names real quick. You can choose different enhancements like hiding the premium domains or unavailable domains from the search results. This makes things much faster and more pinpoint.
Incredible Speed:
One thing it will impress you with is the speed, it suggests thousand of domain name options in a couple of seconds. 
Unbelievably No. of Keywords Threshold for the search:
You can enter up to 5000 keywords or names at the same time which is incredible. There is no other registrar or tool that allows you so many keywords to enter.
Share with Your Team Member:
You can Share the Search results with your team members. They can access the results regardless of their physical location.
Discover New Domin Name Ideas:
The tool helps domain investors and owners come up with fresh concepts by using domain hacks, enhancements, and using prefix & suffix options.
Mobile friendly:
This tool works both on Mobile and Desktop. The PC version of Beast Mode was designed to work just as well as its mobile counterpart.
Pros and Cons of Namecheap Beast Mode
Pros:
Find Domain names real quick
Bulk domain search in seconds
Option to enter up to 5000 keywords 
Domain hacks and enhancements are valuable
Share searches with Team members
Import the searches list
Great Namecheap Support for Customers
 Cons:
There is no discount for registering Bulk Domains
No FAQ section for better clarity
How can you use Namecheap Beast Mode to get domains?
Beast mode is a great tool to get domain names real quick. Let's look at how you can use beast mode to find great domain names in step by step guide.
The Beast mode interface is really simple still if you had never used it here is how you can use it.
If you look at the beast mode interface you will find 4 main areas,
A place to Enter names or keywords
Choose your product range
Select Domain Hacks, and options
Choose extensions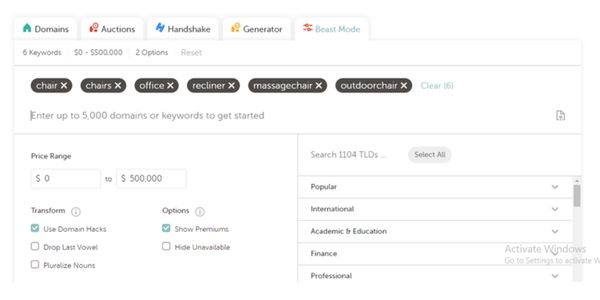 Step- 1: Enter Name/Keywords
Enter your name(s) or keyword(s) here. Type your keywords here(as shown in the image) you can enter up to 5000 keywords which is massive.
With Beast Mode, you can find new extensions that you were previously unaware even existed. Navigate to the options until you discover the ones that are most relevant to your industry, and then go from there. 
You will always find hidden gems that aren't ".com" domain names.
You can also import your domain list on a CSV file here.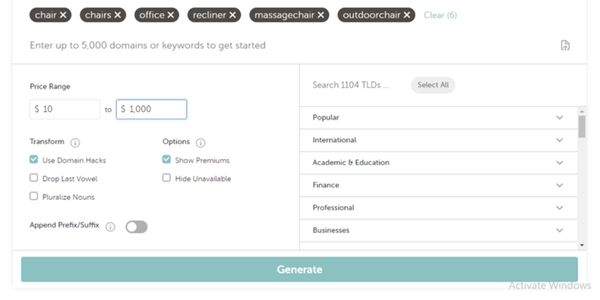 Step-2: Select Price Range
Choose your range of price for the domain, if you have a budget then enter here. As we have selected the minimum is $10 and $1000 as the maximum budget.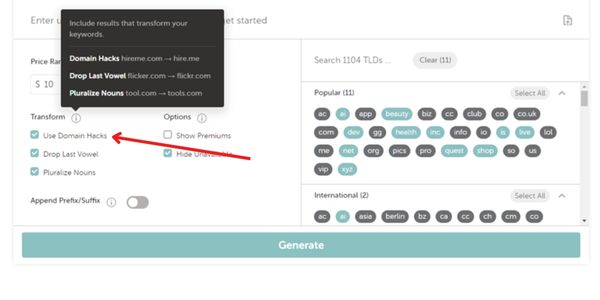 Step-3: Use Domain Hacks
Another interesting feature it offers is the Domain hacks. These domain hacks can be of 3 major types,
Use end words from the name as an extension
Dropping the last Vowel
Using Plural
One of the domain hacks is using the end letters or words as an extension. For example, you can choose "Work.table" if "worktable.com" or other TLDs are not available.
Another domain hack includes dropping the last vowel. For example, if you are looking for workjoes.com and it is not available then it will suggest workjos.com( dropping the last vowel "e").
The last trick that you can choose is to use plural forms. For example, if worktable.com is not available it will suggest worktables.com.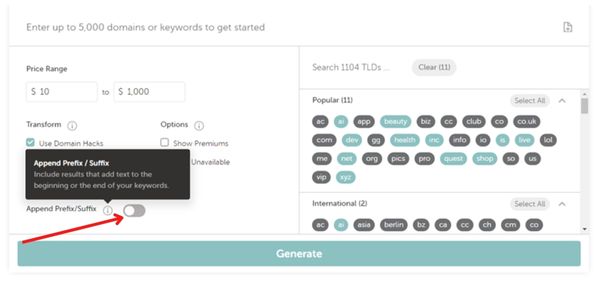 Step-4: Include Prefixes and Suffixes
You can choose to add a prefix or suffixes to your name or keyword while searching for a domain name. A series of terms will be applied to the start or end of the keyword or name you enter.
It will improve your chances of finding a desirable domain much more.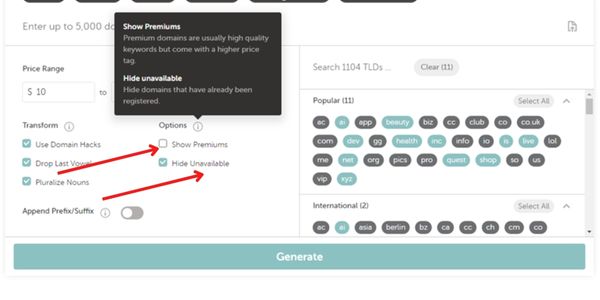 Step-5: Show Premiums and Unavailable
The next step is to choose whether you want the search to display premium domains and unavailable ones. If you are looking for a budget domain then deselect show premium and it will not show any premium domains.
You can also choose not to show domains that are unavailable or already taken.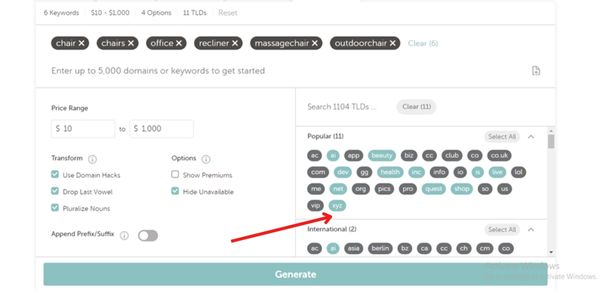 Step-6 Choose Extension(s)
The last step is to choose extensions, it has over 1100 extensions(currently 1104) available to choose from. The extension list is huge and covers almost all TLDs.
You can select as many TLDs as you want and the selected ones will be marked light blue as shown in the image above.
The TLDs cover
Popular
International 
Finance
Academic/Education
Professionals
Business
Audio/Video
Arts/Culture
Marketing
Technology
Short
Real Estate
Adult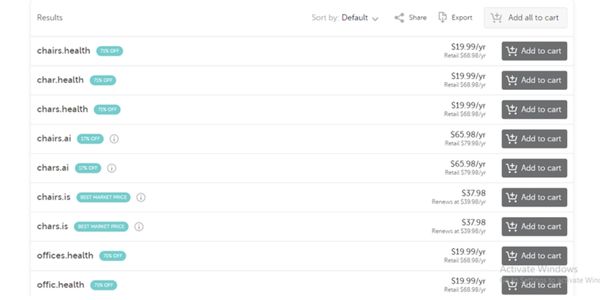 Now click on generate and wait for a few seconds while Namecheap beast mode gives you a list of domains based on your selected criteria and input.
Conclusion
When it comes to fresh suggestions for new web addresses to invest in, Beast Mode shines. If you're in the process of naming a new website or company, it can be of tremendous assistance. 
If you're a domain reseller looking for smart ways to generate domain names, Beast Mode is the tool for you. There is no need to look any further. The procedure of finding the ideal domain has recently been refined to perfection.